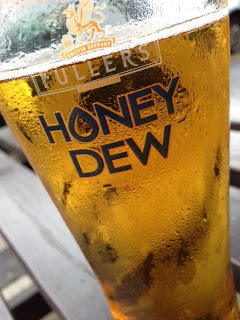 Every week we hear that British pubs are closing at an alarming rate, which is nothing short of a national tragedy. I'm trying my best to support them all; it's a tough job but someone has to do it.
So, anyways, a friend calls and asks if I fancy taking in a football match on Saturday. Nearest home game was Brentford v Walsall, so off we went in the torrential end of summer rain. The stadium at Griffin Park is very much an old school football ground, still having terracing at two ends, and famous for having a pub on every corner.
Our original plan was to take in all four pubs and then watch the game through a euphoric haze, the best way to watch the beautiful game, especially at this level.  The first pub, The Griffin, is a Fullers pub, so decent beer was guaranteed.  The Fullers brewery, based on the Riverside in Chiswick owns almost 400 pubs and prides itself on its traditional fine ales. Scanning the range of hand-pumps my eagle eyed compadre spotted Organic Honey Dew on draft, normally only seen in bottles; this was a rare find indeed. Two pints arrived of this perfect summer pint, ice cold light and with a hint of honey the sides of the glass glistening with condensation.
The delicious bitter sweet aroma alone is seductive enough and the taste even better. So seductive, we sank a fair few and, in fact, we never got to the other three hostelries but at least Brentford won 1-0, and we stopped for another on the way home too. Result!
The Griffin
Brook Road
Brentford
Middlesex
TW8 ONP