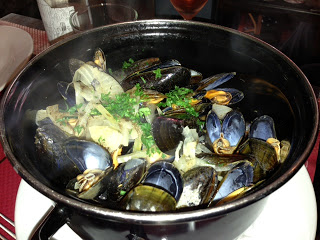 Discovering this divine, yet simple restaurant in the backstreets of Le Touquet was a real and unexpected delight. The previous night had been a disappointment. The concierge at our hotel recommended we went to the finest restaurant in Amiens, Le Maison du Petit Bedon, specialising in La cuisine du Picardie.
Located in a narrow medieval street alongside Amien's imposing Gothic cathedral, we passed it at around 7pm only to find it empty so ambled off in search of a pre-meal tipple in a local hostelry, thinking we could roll up at 8.30 and bag a table with no problem. On our return the place was packed, as if by magic it was suddenly appeared to be populated by half the gastronauts of Amiens; we were met at the door by a pretty waitress frantically crossing her arms in from of her chest repeating "ce fait complet monsieur."
Returning outside my sulky face pressed against the window seeing tables full of happy diners with waitresses gliding effortlessly from table to table with heaving plates of gorgeous looking food and bottles of wine. That evening we eventually found a place that translated as "The Laughing Potato", a bit of a come down, but at least the duck confit was good and the Beaujolais, Chateau de Pizay (
http://www.vins-chateaupizay.com/uk/les-vins-de-pizay.php
 ) was quite superb, a real find in such a simple restaurant. This gorgeous wine is available from Majestic (
http://www.majestic.co.uk/Beaujolais-zid07001
)
Next day we decided the head for Le Touquet, a rather grand, if not slightly faded, seaside town south of Calais. It is said "Les hommes Parisien" own two apartments there, one for the wife, and another for the mistress.
After stopping for breakfast at the curiously named Fritterie Chez Willy, in the village of Hesdin we headed on to Le Touquet for lunch. I had a message from my editor, Maria, recommending a few places to eat. One had closed and the others were either empty, or overpriced. So instead we wandered through the backstreets seeking a suitable place to eat and, through a wafting aroma of mussels, discovered Le Zinc. It was full, smelled wonderful and was buzzing with animated diners and what's more, they were all French. My rule always is if the natives eat there, then it must be good.
We took a table on the terrace and the waitress swiftly bought a menu. All the offerings looked superb, packed with homemade local dishes and seafood; I was drooling just looking at it.
I persuaded my fellow diners to each have a different dish so I could try them all! Every other table seemed to be eating the mussels so one ordered local mussels cooked in white wine (€12.50), another for the Risotto de coquilette au cheddar, magret de canard fume, Pasta shells risotto with cheddar and smoked duck breast (€12.50), one the Filet de daurade a l'huile d'olive, grilled sea bream filet (€14.00) and I went for carbonnade flamande frites a local Flemish style beef and ale stew (€12.50).
The mussels were tender and cooked to perfection, the white wine sauce tangy with lemon and perfect for mopping up with pain francais. Judging by the other diners this appeared to be the most popular dish with the local. The rare smoked duck had a lovely rich texture perfectly complemented by the cheesy risotto; and sadly my fellow diner limited me to only one piece despite my protestations. The fish too was great, grilled, moist, accompanied by crisp steamed vegetables, though a portion was a  little small for a big chap like myself. My carbonnade was also excellent, the meat tender and the sauce rich and full of flavour, though more suited to be accompanied by a beer or a big Bordeaux red. The service was attentive, superb and immensely professional.
As with most restaurants in France the house wines were perfectly acceptable and the whole fabulous feast was washed down with a carafe of the delicious house rose for a mere €8.00.
Finally, I indulged myself with a dessert Coupe de Zinc (€6.00) an immensely fattening combination of homemade vanilla ice cream, caramel and fresh cream. Luscious.
The chef/owner is young and deeply passionate about his food and changes the menu daily, offering up a combination of French Classics and local dishes. The walls of the restaurant itself were covered in delightful old photos of Le Touquet in its heyday and overall, had a lovely and welcoming ambiance.
What better way to end a short stay in Le Touquet with a lovely stroll along the long sandy beach, walking off that dessert, before heading back to Calais with the car laden with wine, saucisson, cheese and pates for future feasts at home.
Le Zinc
Bistrot Gourmand
70 rue de Paris
6520 Le Touquet
France
Tel: 03 21 05 89 27
and the one that got away….