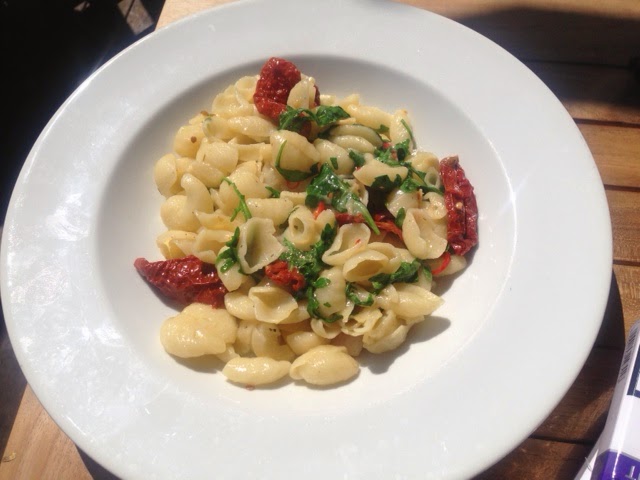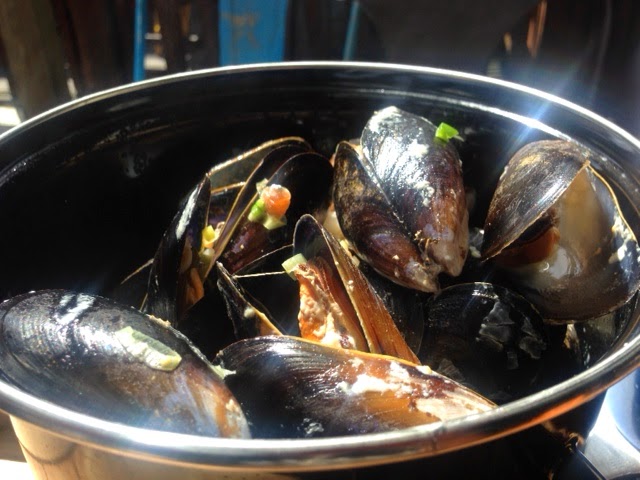 Picture the day – beautifully sunny, a gorgeous beer garden at the back of The Mason's Arms near Kensal Rise. I had always wanted to go and the place was heaving. A cursory glance at some of the dishes coming out made me think I was in for a treat. Huge burgers in handsome buns with very good looking chips, plates of ribs, glistening with shiny sauce were being ordered in abundance. I had a fancy for the moules with chips and a couple of side salads, whilst my pal liked the sound of the pasta with gorgonzola, chili, garlic, rocket and roasted cherry tomatoes.
The first thing to note, however, was the stressed look on the waiting staff's faces. Clearly understaffed for the day, it took far longer than normal to get served and the poor customers next to us had waited nearly an hour for some extra bread to arrive with their beetroot hummus.
Anyway, let's start with the good. Delicious chips, superbly crunchy on the outside and fluffily gorgeous on the inside. That's where it stops I'm depressed to report. The over cooked pasta, supposed to arrive with roasted cherry tomatoes came with commercial sun dried tomatoes, something that my pal hates.
I could barely detect any of the other ingredients; it was a bland disaster. My moules were just about acceptable, the watery sauce a disappointment and for twelve quid I expected a hell of a lot more.
As for the side salads, salad leaves with walnuts and a disgraceful looking teeny tiny plate of tomatoes, weren't as much tired as completely knackered. And what the hell was the dressing all about? A sweet white gunk that was just horrible. This disaster of a meal was washed down with an 'empty' rose and a large glass of Sauvignon Blanc which was a heart stopping £7.95. Maybe it's the area – Kensal Shmenzal – that's all I have to say.
Look, if you have a staff shortage, deal with it. Apologise and tell people they're in for a long, long wait. It's not the staff's fault that we had a dog's dinner for a meal but I have rarely left a place with such disappointment weighing heavily on my heart. Forty seven pounds worth of torture is the only way to describe it. Sigh.
The Masons Arms
665 Harrow Road
London
Nw10 5NU
0208 960 2278