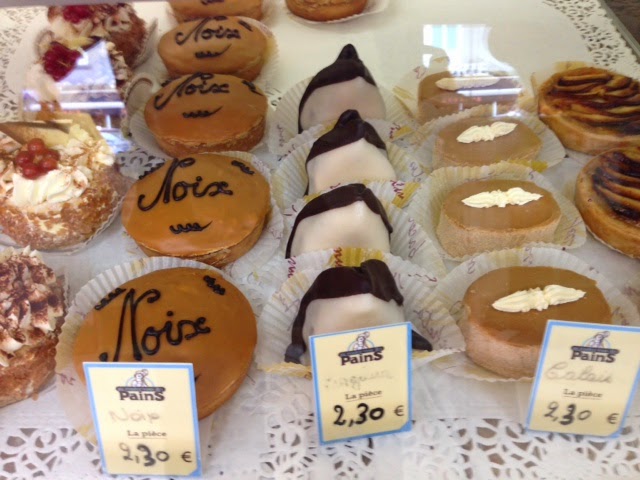 The beauty of France is that even in the most provincial of towns you can always discover gastronomic delights. I make it a point of going to this unassuming neighbourhood bakery whenever I'm nearby; the aroma of fresh baking, the presentation, and the friendly service, everything here is just first class.
L'Amirauté bakes traditional baguettes from the region at €1 each. Darker and more crusty than regular French bread with a slightly nuttier flavour and, like all French bread, should be eaten as soon as possible after purchase. Mine never made it home and was consumed with hunks of Le Maubert Brie and Saucisson sec in the car.
The cakes are really here something else; giant Mille Feuille at €2,40, a double layered profiterole, Religieuse €1.95, oozing fresh cream in the middle like a priest's dog collar, Mille Feuille fraise €2,30 and so much more to tempt you. The lovely serving girl happily allowed us to a sample the mini profiteroles at a mere €.75. One taste of creamy, chocolaty loveliness and I was hooked! I bought a mixed selection of cakes placed carefully and neatly in a box for the long journey home.
Sadly, when the box was opened at home the contents of the box resembled a train crash, the topping of the strawberry Mille feuille having become detached on the way home and splattered over the over cakes. Undeterred, I rescued what I could and carefully reassembled the mille feuille, and consumed it slowly with a frothy cappuccino.
One always wonders, with such ubiquitous patisseries all over France why the French are all not all as big as houses? I guess the national pastime of adultery keeps them trim…
Boulangerie de L'Amirauté
9 Rue Faidherbe
62200 Boulogne-Sur-Mer
Nord-Pas-De-Calais
France