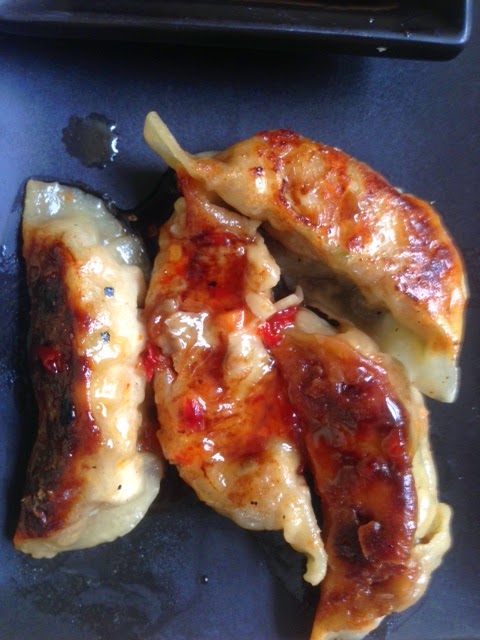 For some reason people are reluctant to make their own gyoza or Japanese dumplings.
They're actually rather easy –  you buy the frozen gyoza skins from a Chinese or Japanese supermarket, put some delicious plump prawn mixture in the middle and half fry, half steam them.
Great as a starter with a shiny, sour and hot dipping sauce. You can also freeze them and cook them from frozen by doubling the cooking time.
TIP Please buy very good quality North Atlantic prawns – they're juicy and plump. My favourite supermarket brand are from Waitrose. Always use Kikkoman's soy sauce
Serves 4 as a starter
20 gyoza skins, defrosted
30 small peeled North Atlantic prawns, finely chopped
2 spring onions, finely shredded
50gr cabbage, finely shredded
2 cloves of garlic, crushed
1/4 inch ginger, grated
1 tsp sesame oil
1 tsp soy sauce –
1 tbs vegetable oil
100ml water
For the dipping sauce
8 tbs soya sauce
1 tbs sweet chili sauce
juice of 1/2 a lime
1 red chili, finely chopped
1 tbs rice wine vinegar
Mix together the prawns, spring onions, cabbage, garlic, ginger, soya and sesame oil. Put the mixture in the fridge for half an hour. Place a tsp in the middle of a gyoza skin and seal the dumplings.
Press the edges with a fork.
Put the dipping sauce ingredients into a screw top jar and give them a good shake.
Heat half the oil in a large pan. Fry the gyozas till golden on all sides and then pour in half the water and place a lid on to finish cooking for about a minute. Take the gyoza out of the pan and keep warm in a low oven whilst you cook the other half.
To finish, once you've served everyone with their dumplings, strew with a little chopped chili and some spring onions before giving individual dipping plates.