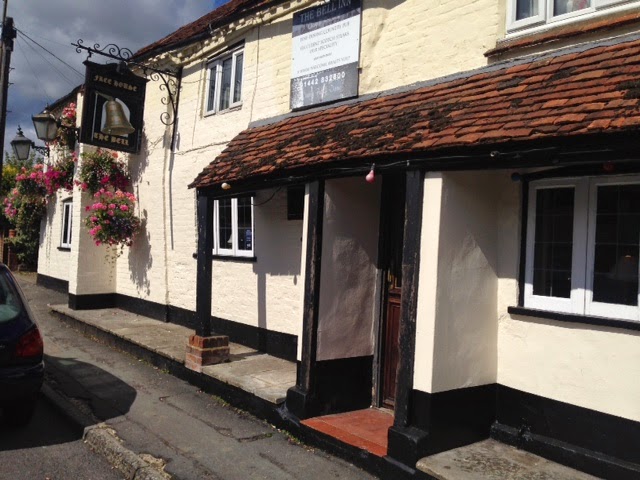 A sunny Sunday afternoon is made specifically for one reason – to seek out a splendid inn serving craft ales for the boys and decent, affordable wine to quaff with your rare rib of beef with all the trimmings. A charming setting is, of course, an added bonus, as is first class service and a warm welcome.
How fortuitous then, to be recommended The Bell Inn in Bovingdon, an eighteenth century, family run establishment that prides itself on its craft beers and homemade traditional pub grub. It's worth noting that their beef is hung for twenty one days and butchered on the premises, hence all their steaks are served on the bone.
So, after a cheery welcome from larger than life owner Tim, both of us headed straight for the rib of beef (£12.95) and a bottle of very easy drinking house wine at a very affordable £13.75. It arrived promptly and the first thing I noticed was that the Yorkshire pudding had been filled with rich gravy, a tradition which has long gone and should be brought back by law in my book.
Crunchy roast potatoes, crisp vegetables and generous slices of pink beef made for two very happy punters indeed. That's what we want, isn't it? Simple, homemade food using quality ingredients that don't cost the earth.
Although sated, my belly had just about enough room to share a plate of cheese (£5.90) with my good friend Geoff. Served with an incredibly sweet but gorgeous caramelised onion chutney, five generous and very good cheeses were put before us – more than enough for two, that was for sure. A complimentary glass of port was, of course, the perfect accompaniment to the eclectic fare on offer.
Our gracious host was charm itself and the waitresses were attentive and professional which all adds up to one thing – I'll be back in the very near future. I'm already salivating at the thought of sinking my gnashers into a sirloin streak and a glass of Malbec. The Bell Inn is simply a real credit to the pub industry.
The Bell Inn
High St
Bovingdon
Herts
HP3 0HP
01442 832800
http://www.thebellbovingdon.com/
https://www.facebook.com/TheBellInnBovingdon