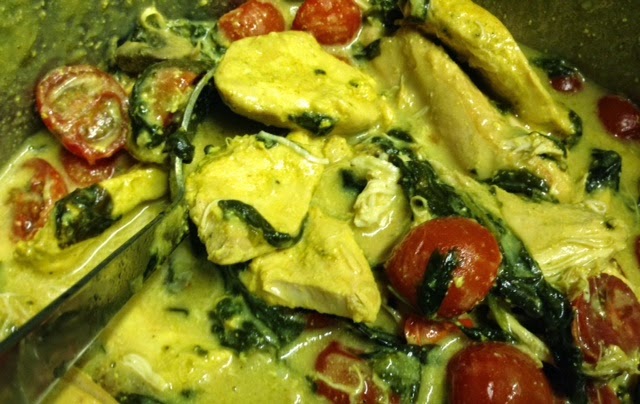 Ras el  hanout is a splendid spice mix and works beautifully with chicken. The addition of roasted cherry tomatoes and spinach in the final sauce gives it a lovely lift. Serve with basmati rice and a glass of Greco di Tufo.
Serves 4
8 skinless and boneless chicken thighs, cut into bite size pieces
8 tbs Greek yogurt
1 bag of spinach
2 cups of chicken stock
4 shallots, sliced
1 small glass of white wine
4 cloves of garlic
2 tbs yellow ras el hanout
2 tbs double cream
juice of a lemon
1 portion of roasted cherry tomatoes (see recipe)
good pinch of sea salt and black pepper.
Into a bowl place your chicken, yogurt, ras el hanout, wine, garlic, shallots and salt and give it a good stir.
Marinate for at least two hours in the fridge. Cook the spinach in a little butter and when wilted, squeeze out the excess water with the back of a spoon in a sieve. Cool and roughly chop.
Preheat the oven to 180oC and cook the chicken in a roasting pan for about twenty minutes, or until tender (it should not take more than half an hour).
Tip the chicken into a large saucepan. Add the stock and reduce by a third. Add the spinach, the tomatoes, lemon juice and stir in the cream.