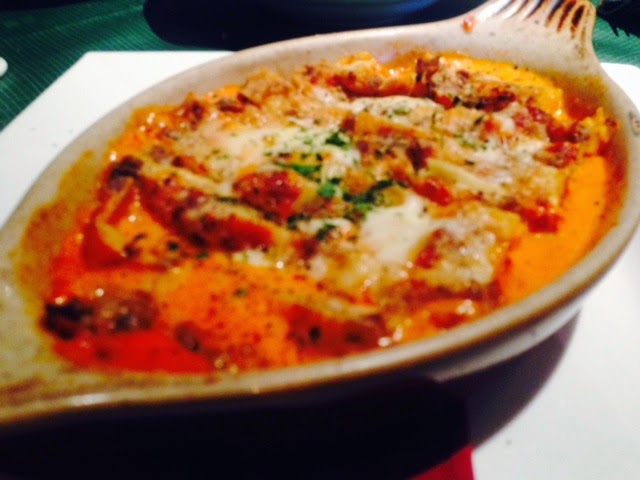 exceptionally good lasagne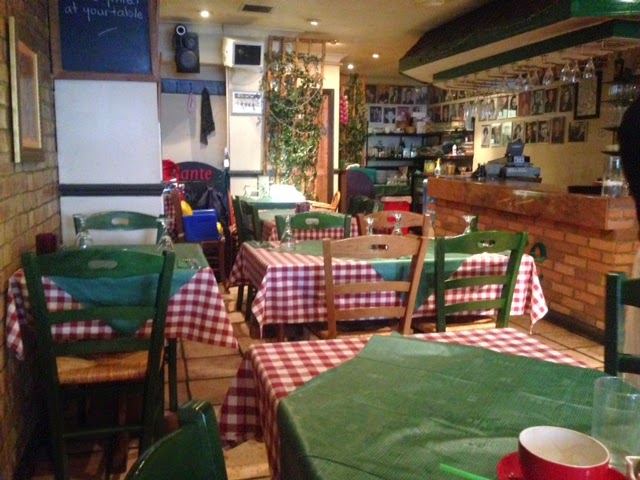 You get the picture – a family run restaurant that's been going for forty odd years, tables adorned  with the ubiquitous red and white table cloths and some pretty awful décor.
However, I'd rather be in a homely environment and be eating honest, simple food than some place that's up it's own bottom serving baby portions of posh nosh, served by someone whose nose is in the firmament looking down at all of us who are 'Pradaless.'
At any rate, a cold and wet Sunday brought me and my lasagna loving pal Zi to Dante's for some comforting pasta and a glass of wine.
So, lasagna, (£8.50) linguine con gambaretti (£8.95) and a side salad (£3.45) were duly ordered along with a Toscana Rose (£14.95) – red would be my normal choice with pasta and the Italians have some stonking good, bold wines to adorn any table. However, red didn't suit my friend and so I was happy to go with her choice.
When both dishes arrived I thought they were very nicely presented. Extremely generous portion  wise and the lasagna looked lush. Saucy, meaty and not too much pasta when Zi dug in and I have to say that we both thought it was really good. The meat was so soft you could have mistaken it for veal. The sauce was silky and dotted with mozzarella in all its gooey lovliness – a yummy mouthful.
The linguine was perfectly cooked, the prawns plump and sweet with just a coating of a spicy, garlicky oil.
The salad was fresh and like the most intelligent establishments, we were given oil and balsamic to dress the salad to our own liking.
So, if you're looking for decent grub that's decently priced, head on down. It comes with its very own gruff manager come owner to boot.
Dante
12 Station Parade
Ealing Common
W5 3LD
0208 992 2727
http://www.danterestaurant.co.uk/