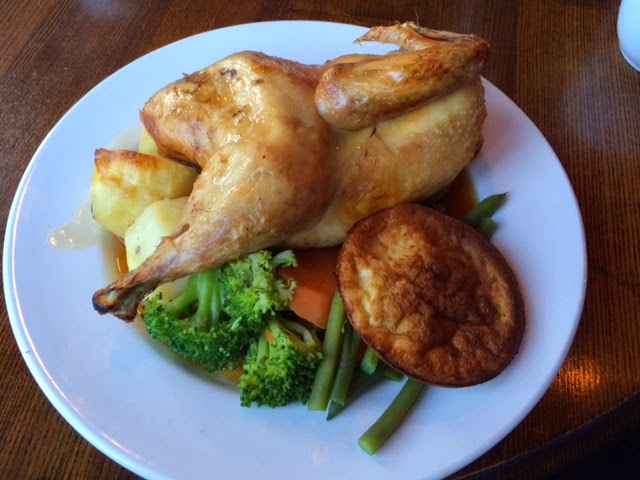 That's a Yorkshire pudding apparently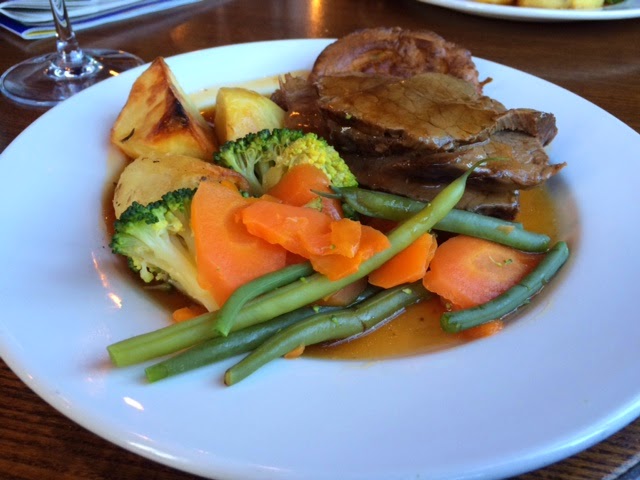 Tougher than old boots beef
A local Sunday lunch would normally have been taken at Le Junction in Harlesden as it's never failed to impress on all fronts. However, Adam the chef was away for the week-end and so my pal and I decided to give the nearest Fullers pub a whirl.
It's a spacious and nicely laid out place with a lovely outdoor area and the barman was welcoming and very friendly. Having decided on the chicken and the topside of beef, my attention turned to the wine and both our choices turned out to be spot on. Le Versant Pinot Noir was full of flavour and as smooth as a perfect peach whilst the Marques Del Atrio Blanco Rioja was young, crisp and fresh.  Lovely start.
Here's where, sadly, it all ends. The lunch arrived and my heart sank like a Swedish sunset. Just one look at the most pathetic Yorkshire pudding I  have ever seen, rang  the loudest alarm bells and unhappily my instinct was right. Apart from the flabby, floppy Yorkshire, the beef was indescribably bad (I had already been told that I couldn't choose a rare piece of meat but I hadn't asked for it to be assassinated either) the vegetables cooked for a toothless octogenarian and the bland and commercial tasting gravy was just plain horrible.
I can't ever remember feeling so polarised by an establishment. The wine was so good and the prices really reasonable. It's rare to find a decent wine for less than twenty quid a bottle in London and so I have to congratulate Fullers for this. I've already said that the service was great and so had I just come in for a few drinks I would have left delighted. Sadly, I can't cast my mind back to such a poor meal and I cannot for the life of me understand why so much attention is paid to producing a fine wine list and so little to the food. Beats the hell out of me.
The Castle
Victoria Road
North Acton
London
W3 6UL
020 8992 2027