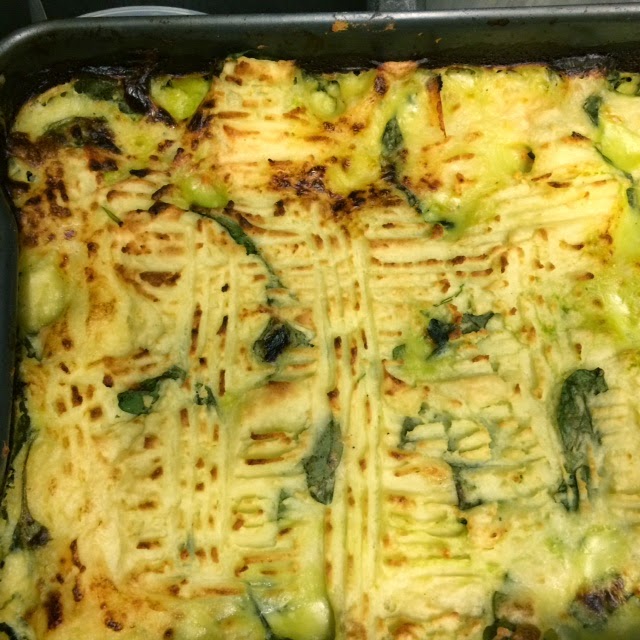 The ultimate comfort food to my mind. Dotted with pea puree and a layer of spinach to stop the potato from absorbing all the luscious sauce, you can use whatever fish you like (smoked haddock is always good in fish pie). I bought pollock but then added a few king prawns for that element of luxury.
Serves 6
Pre-heat the oven to 180oC
400gr pollock fillets
225gr frozen raw king prawns, defrosted
1 kilo of Maris Piper potatoes
2 banana shallots, diced
400gr peas
4 tbs parmesan
4 tbs double cream
1 large knob of butter
1 glass of white wine
4 carrots, diced
1 bag of baby spinach
1/2 litre of milk
1 cup of fish stock
1 heaped tbs cornflour
black pepper and sea salt
Cook the potatoes in boiling, salted water. Drain, add half the butter and mash. Melt the other half of the butter in a deep frying pan or medium non stick saucepan. Fry the shallots on a low heat till translucent, pour in the milk and when bubbling, poach the fillets for five minutes, remove and place them in a roasting tin or pyrex dish. Poach the prawns for two minutes and add to the fish. Place the carrots in a bowl, top with water, add a sprinkle of salt and cook in the microwave for seven minutes.
Drain and place in the fish dish. Whilst the carrots are cooking, add a glass of wine and the fish stock to the poaching liquid and reduce by a third. Mix two tbs of water to the cornflour and pour into the stock. Lower the heat and lit it cook for five minutes. Cook the peas till tender in boiling water, drain, place in a blender with the parmesan and half of the cream. Blitz till very smooth. Add the rest of the cream to the sauce. Grind in some black pepper. Wilt the spinach in a pan and squeeze out any excess water. Pour the sauce over the fish. Spoon over the puree everywhere and make a protective layer with the spinach. Top with the mash and run a fork over the whole pie. Wrap foil loosely over the pie, place in the oven for twenty minutes before taking off the foil and letting the top brown for ten minutes.