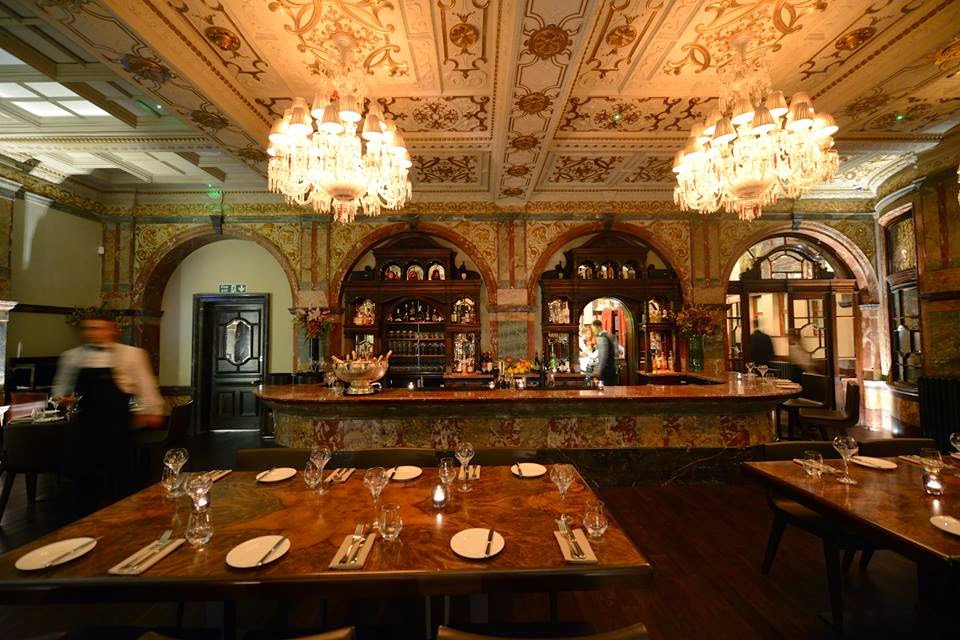 Walking down a rather unassuming back street at the Maida Vale end of St. John's Wood Road I was not sure what to expect of this recently refurbished former Victorian Gin Palace and pub. I certainly wasn't prepared for the opulence lurking inside; if the front bar was elegant then the saloon bar was 1890s decadence incarnate with airy ornate gild beamed ceilings and over 50 types of marble to create magnificent bar-top, archways, an enormous fireplace and soaring pillars; it was like stepping back through time. The spacious 100 seat Lord's Dining room was almost an anti-climax, but at least the marvellous food wasn't.
The story has it that Frank Crocker thought he would capitalise on being the first hotel near the newly planned Great Central Rail terminus and so built The Crown Hotel with architect Charles Worley in 1898, thinking he would earn his fortune. Sadly for Crocker the railway company changed their plan due to objections from local residents and the terminus was built further south at Marylebone, leaving his "Palace" in the middle of nowhere and hence it became "Crocker's Folly" after his untimely death in 1904.
Many such iconic London buildings from the 1890s were sadly lost courtesy of the Luftwaffe and WW2 but, now owned by Marouf Abouzaki's Maroush Group, Crocker's had been closed since 2004 and has now been preserved and restored to its former pomp, with the addition of some elegant crystal chandeliers and imported Italian furniture. A truly awe inspiring interior reminiscent of Oscar Wilde's beloved original Café Royal in Piccadilly before it was cruelly butchered and redeveloped.
Maroush, founded in 1981, is best known for its fresh and fragrant Lebanese food in Edgware Road and Kensington, but the theme here is Modern European with a definite leaning to French cuisine, produced and beautifully presented in an open kitchen by chef Damian Wawrzyniak and his staff.
I perused their innovative cocktail menu and began with a Vanilla Burst cocktail (£8.50), their version of a Mojito, shaken with vanilla hints, white rum, Licor 43, vanilla pod, lime, mint and sugar. It had the texture and taste of liquid ice cream, definitely for those with a sweet tooth.
Starters was an easy choice; what better pairing than ice cold Sancerre and Oysters with a side of fried cone of hot and crunchy white bait with Tartar Sauce (£8) washed down with winner of the Gold Medal at the Sommelier Wine Awards 2014, Sancerre la Graveliere Mellot 2013 (£45). The freshness, spice and a long finish more than made their mark; just listen to what Olivier Marie of Coq d'Argent had to say about this wine: 'Flavours of apple alongside aromas of jasmine, freshly cut grass, tarragon, mint and hints of passion fruit.' Couple that with good intensity of gooseberry and spice, and a fresh, mineral and lemon finish, and it's no wonder Joseph Mellot picked up Gold for this beauty.
My main was beautifully presented duck breast, perfectly pink and moist served with deliciously dense dauphinois. A fellow diner had the steak cooked in a Josper charcoal oven (£29). It deliciously chars the steak leaving it seared on the outside while remaining pink and juicy. Absolutely perfect for me and just the way I like it! I had originally wanted the highly recommended Lincolnshire Pork Belly, Served with Butternut Squash Puree, Squash Cubes, Crackling and Sichuan coleslaw (£26) but it was off the menu this time.
Service was a tad slow but, to be honest, I don't mind if you know the food is being cooked from fresh; besides it gives more time to savour and enjoy the superb wines. The lighting too was rather low which hampered photographing their superb food.
This has to be one of the best restaurants of the year, not only for its terrific food and service but also worth visiting for its remarkable atmospheric interior.
Feeling full I passed on the dessert but returned to the 1898 bar for a final nightcap of a generous slug of Bourbon imagining the chattering ghosts of Victorian gin drinkers and poor Crocker forlornly waiting for the patrons that never arrived.
Crocker's Folly
24 Aberdeen Place
St Johns Wood
London
NW8 8JR
020 7289 9898
facebook.com/CrockersFolly
@crockersfolly