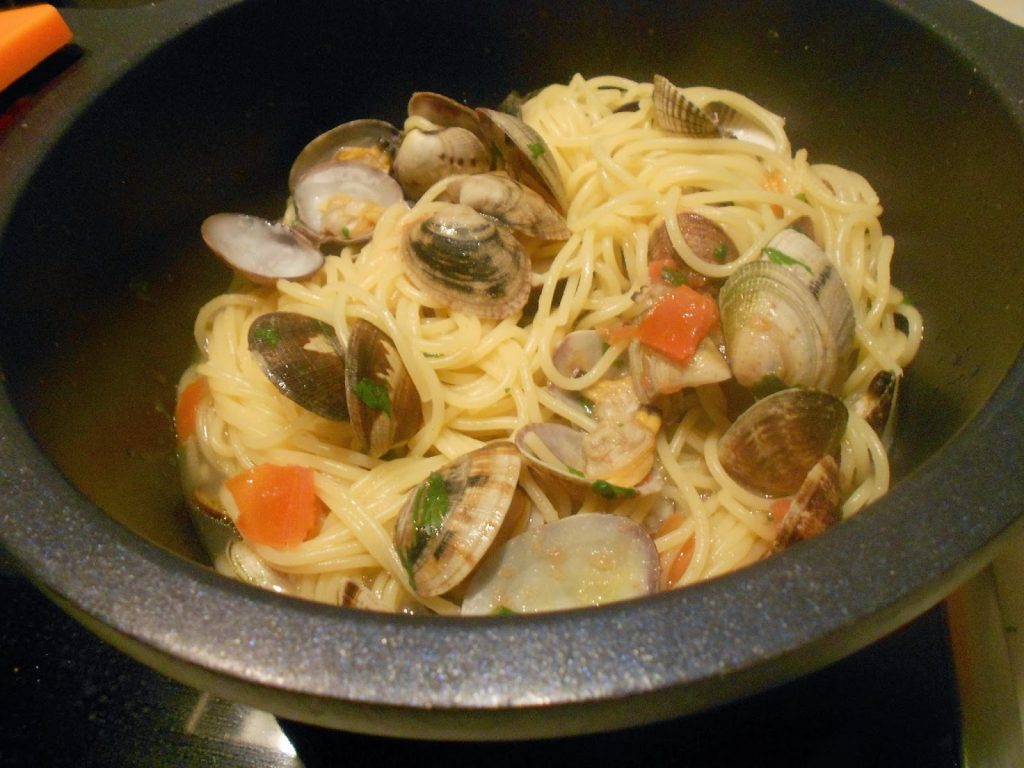 Although one can buy tinned clams (please don't) I would never dream of using anything other than the fresh variety. It's one of the easiest dishes to make – I use tomatoes and although I'm not sure if it's authentic or not, it adds colour and a lovely fresh taste to the finished dish.
TIP I'm a garlic and chili monster, but if you're not, just adjust the quantities to suit.
Serves 4
1kg clams
350gr spaghetti
4 fat cloves of garlic, sliced
2 ripe tomatoes, deseeded and diced
2 medium red chilis, finely chopped
handful of flat parsley leaves
1 glass of white wine
4 tbs olive oil
sea salt and black pepper
Check that the clams are tightly closed. If not, discard them. Cook your spaghetti according to the instructions. Prepare the vongole by heating a saucepan, pouring in the olive oil and fry the chili for a minute before adding the garlic. Stir and pour in the wine, add the tomatoes and when boiling, reduce by half. Throw in the clams. Turn the heat down to medium; the clams should open after a couple of minutes. Add the parsley, salt and pepper and turn down to a low heat. Drain the spaghetti and stir into the clam sauce.
Have some crusty bread and let's face it, what better time than to pour your guests a large glass of Greco di Tufo.