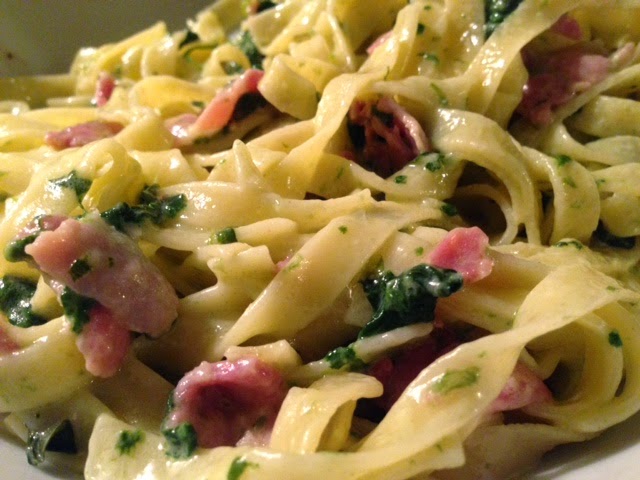 Plonking a big bowl of pasta into the middle of a table that is surrounded by friends is one of life's simple joys. You just add a big green salad, some artisan bread and a couple of bottles of Primitovo and you're away.
As with most pasta sauces, the recipe is quick, a doddle to make and won't have you slaving for hours in the kitchen.
TIP Apart from the cardinal sin of drowning your pasta rather than COATING it, buy a very good quality dried pasta like De Cecco. You can use whatever pasta shape you desire.
Serves 4
350 gr tagliatelle
180gr streaky bacon
150ml creme fraiche
small glass of wine
4 heaped tbs parmesan
1 egg yolk
a little oil for frying
salt and black pepper
Cook your pasta in plenty of boiling, salted water. Meanwhile, slice the bacon into bite size pieces and fry them in a large frying pan with a tbs of olive oil. Wilt the spinach in a saucepan and then squeeze out the excess with the back of a spoon.
When the bacon is cooked, pour in the wine and reduce by three quarters before adding the spinach and pouring in the cream. Let the sauce bubble for a few minutes on a low heat, take off the hob and stir in the egg yolk. Sprinkle over the cheese and finish with a good grinding of black pepper.