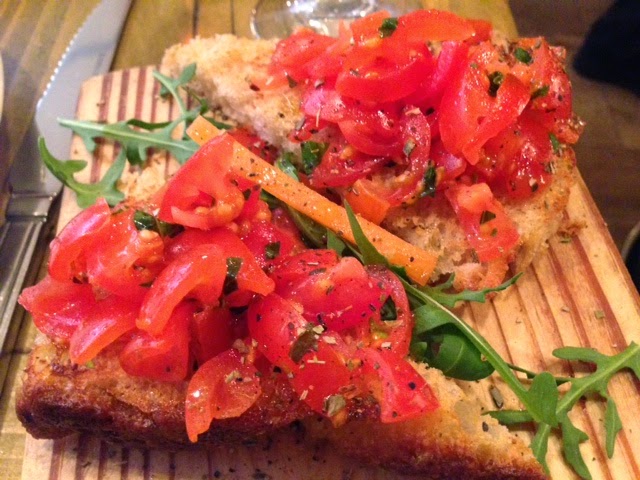 There are times when only simple, uncomplicated fare will do. The best of ingredients, a glass of wine and a few friends diving into a plate of Italian topped bread, glistening with olive oil and sprinkled with sea salt.
TIP My favourite bread to use is sourdough. but you may prefer the Italian 'country bread which is usually sold as a round loaf. Don't bother to use anything but the very best organic tomatoes that your money can buy. Roasting cherry tomatoes also works very well.
Serves 4
4 thickly sliced rounds of bread
6 very ripe tomatoes
2 large cloves of garlic, peeled and lightly smashed
extra virgin olive oil for drizzling
a few shredded basil leaves
a few rocket leaves
sea salt and black pepper
Place the tomatoes in boiling water and let them sit for a minute. Remove, skin, cut in half and deseed them with your hands.
Dice them roughly and set aside in a bowl. Carefully mix in the finely shredded basil. Toast the slices of bread on both sides, (I don't put them in the oven) rub the garlic all over the bread, pile on the tomatoes, drizzle with olive oil and sprinkle with sea salt and black pepper.
Cut the bruschetta in half and place on a board in the middle of the table. Scatter over a few rocket leaves. Watch them disappear in seconds. Lush.