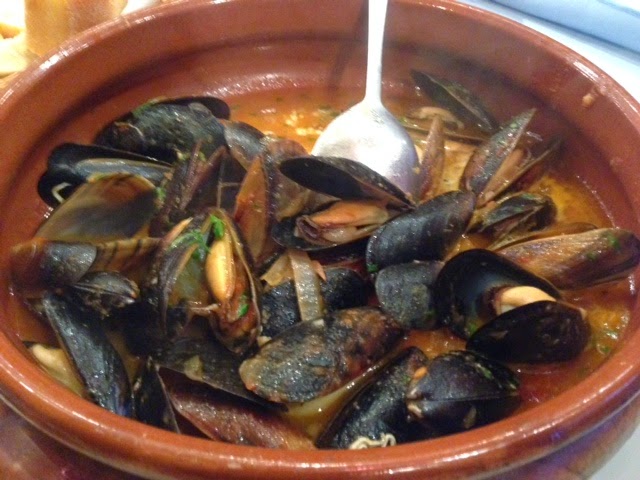 I love sharing dishes and a great big bowl of plump mussels, drenched in a Spanish or Provencal style tomato sauce with bread for mopping up the juices is right up there for simple, easy eating.
TIP Buy the very best tinned tomatoes that money can buy. I love the chair de tomates by sainsburys.
If you like heat you can add some paprika, cayenne or freshly diced chili.
Serves 6
2 kg mussels, debearded and cleaned
1 large Spanish onion, finely diced
4 fat cloves of garlic, sliced
1 tin of tomatoes
1 large glass of white wine
6 tbs olive oil
handful of flat leaf parsley leaves
black pepper
Heat the oil in a large, deep, lidded pan and fry the onion on a gentle heat for ten minutes, stirring from time to time.
Add the sliced garlic, cook for a minute and then pour in the wine. Turn up the heat and reduce by half. Turn the heat down and add the tomatoes.
Cook for another fifteen minutes, add the mussels, turn the heat up again and put the lid on for five minutes. Check to see that your mussels have all opened, (discard any that haven't) sprinkle over the parsley and finish with a good grinding of black pepper.