The most tender fillet steak with a rich cognac sauce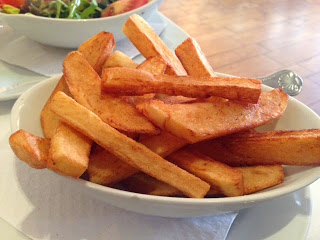 Perfect chips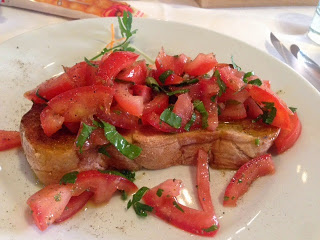 Watery tomato bruschetta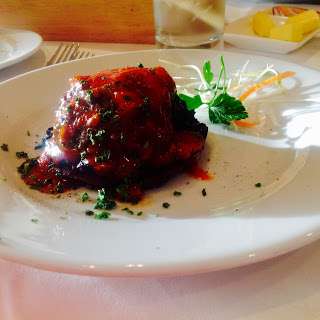 A rather dull portobello mushroom
Inconsistency – it's a sure fire guarantee of failure in the food business. You generally get one shot at it in this hard sector of ours. It's why you have to be on your game 100% of the time. Focus, concentration, process; these are all essential skills which without will you are guaranteed to shut up shop.
I say all this because I've had some ghastly experiences in 'Italian' eateries, the food veering between average and really poor with an eye popping bill at the end to add insult to injury.
Anyway, having been persuaded to give another Italian a whirl in the nearby vicinity of W5 by Hangar Lane, my business partner and I looked in on Belvedere on a dreary Monday night, usually the quietest time for restaurants.
A spacious place, it was like walking back in time with the leather banquettes and a worryingly heavy menu.
Our waiter read out a long list of specials (on top of the huge menu) which got me wondering how anyone could survive with that amount of food on offer, wastage being the vile enemy of profit.
Anyway, we ordered the bruschetta, the portabello mushroom, the steak and some pasta with parma ham, all to be washed down with a Pouilly Fuisse, (£35) a Burgundian nectar that unfortunately I didn't photograph and sadly their website didn't include.
Terrific wine I have to say; for all you Chardonnay sceptics, that's the grape used in this rich, full bodied, gorgeous drop.
To the good then. The steak, as soft as butter was cloaked with the richest cognac sauce I've had in a long time but it was truly delicious. The chips were perfect, the salad substantial and well dressed. My pal's pasta was home made and of the highest quality.
So here's my problem – the starters were a miserable disappointment. The tomatoes on my bruschetta were bland and watery – there is NO excuse for this. The main ingredient of a dish letting everything down? Why for God's sake? The mushroom was wrapped in spinach and a little cheese and was, well. frankly, as dull as ditch water.
I don't care what anyone says. You cannot be this inconsistent if you want to build your business. Then again, this restaurant has been round for years. It beats the hell out of me.
The whole bill came to a whopping £98 including service – the wine was a tidy sum but the taste was divine. Of course the fillet is an expensive cut but I'm here again in Ground Hog day.
Yours,
baffled and slightly depressed…. reasons to be cheerful? I can't think of any.
Belvedere Restaurant
11 – 12 Abbey Road
Hanger Lane
Ealing
W5 1EE
0208 998 7986
http://www.ristorantebelvedere.co.uk/