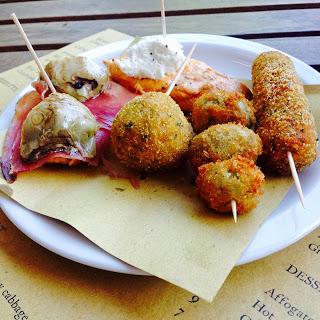 The sharing plate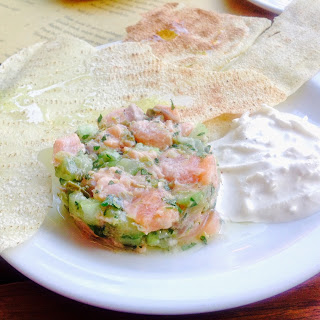 Salmon tartar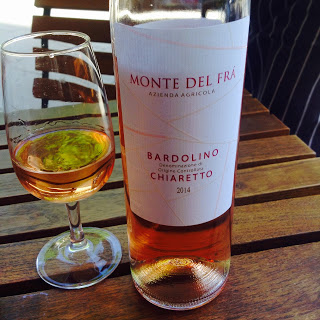 A lovely drop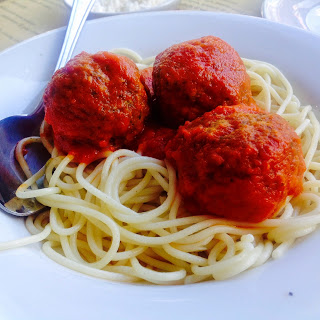 Generous meatballs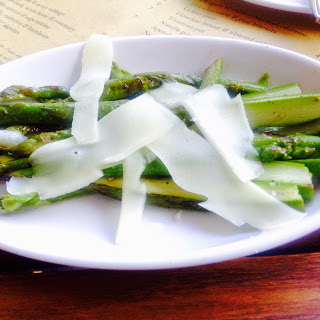 Asparagus with parmesan
Having ranted on about how disappointed I've been with Italian cuisine in the UK, I very cautiously agreed to go to Polpo, a restaurant serving small plates and one that had been recommended to me by a discerning friend who'd visited Polpo in another location. I'd also had very fond memories of eating small plates in Quartino, a stonking restaurant in Chicago.
I was further reassured by some terrific reviews that were were almost fawning. So, with these gushing testimonies in mind, a free Saturday had my friend and I sitting outside in the sunshine, sipping a very nice Italian rose (£27) whilst looking over the reassuringly small menu.
Small plates often don't mean small money in Notting Hill and sure enough, they didn't. We decided to share a plate consisting of one of each of the following:- arancini (a rice ball), a salt cod croquette, artichoke and speck crostini, fried stuffed olives and a crostini of spicy 'nduja and ricotta (£9).
This was to be followed by the salmon tartar served with a horseradish cream (£7), the classic meatballs served with spaghetti (£9), some asparagus with parmesan (£7) and a cheese board (£8). It was odd to discover that Polpo don't serve salad leaves of any description.
As usual, I'll start with the best. The meatballs were absolutely delicious. I thought I detected a hint of sage but whatever it was, the balance of flavours was perfect and the denseness of the meatballs right up my alley. The sauce clung to them appealingly and really made for a lovely mouthful.
My salmon tartar looked as pretty as a picture but I could have done with more salmon and less cucumber. It was refreshing and light, however, but the horseradish cream was completely overpowering.
The sharing plate looked a little dull and bland – I wasn't a fan of any of it apart from the salt cod croquette. There was a lack of seasoning to most of the dishes, the olives were too tart and well, I was just doing my 'so what' face throughout that course.
The asparagus was good, the Parmesan of the best quality and so it bloody well ought to have been.
I was blown away by the Devon Blue on my cheese plate – creamy and deep. The Lincolnshire Poacher was also very good, but I didn't care much for either of the goat's cheeses, the over sweet chutney and on a personal note, I hate oat cakes. They are just too heavy and ever since I got my hands on Peter's Yard sourdough biscuits, nothing else will do.
The bill, including service and an extra glass of wine to accompany the cheese board was just over £83.
If I'd been with a strapping lad or any of my brothers, I expect a bill that size for that amount of food served would have irked them intensely. For me, however, It's never about the quantity. Just as eating well gives a spectacular joy to life, eating like this sticks in the gullet and leaves me rather cold. Sighs all round.
Polpo
126-128 Notting Hill
London
W11 3QG
0207 229 3283
www.polpo.co.uk