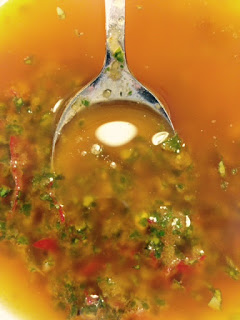 The joys of experimenting in the holidays. Calm, relaxed cooking and more time to be thoughtful.
Drizzle this on chicken, halloumi and baked fish. Lush.
TIP This will serve 6 people and you can put the rest into a jar in the fridge for four days at least.
6 anchovy fillets in oil
20 basil leaves
2 fat cloves of garlic, crushed
3 tbs white wine vinegar
10 tbs olive oil
1 tsp honey
1 tsp English mustard
1 medium red chili – finely diced
1/2 tsp maldon sea salt
good grinding of black pepper
Simply put everything into a blender or small processor and whizz for 40 seconds. That's it. Marvellous.