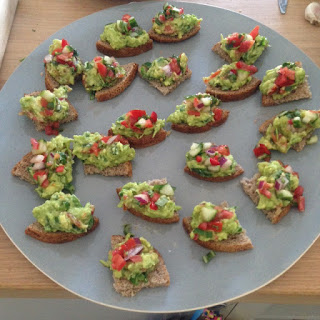 I made these dleightful mouthfuls at my nephew's 40th birthday bash and was immediately asked for the recipe.
These delicious morsels pack a slight punch but you can leave out the chili if you can't stand the heat, as it were.
TIP These are best made just before serving but they really don't take long to assemble.
serves 10 as part of a canape menu
2 avocados
2 spring onions
juice of 1/2 a lemon
1 medium red chili
1 tomato, deseeded and finely diced
pinch of Maldon sea salt
1 portion of tomato and coriander salsa (see recipe)
5 slices of rye bread, cut into little triangles
Lightly mash the avocado in a bowl.
Slice the spring onions finely and mix into the avocado, together with the chili, tomato and sea salt. Pile onto the bread, (I don't butter them but you can if you wish) and top with a tsp of the fiery salsa. A vegetarian delight.