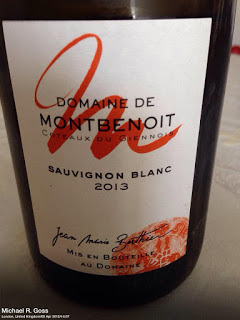 It's always been my policy to befriend sommeliers and wine buyers; you can always learn so much from their experience. Over the course of several years visiting France to purchase wine, I've built up a relationship with the chief wine buyer at Auchan Boulougne.
Christine Gavois has got to know my tastes; every time I visit I ask her what's new and she enthusiastically whisks me around the aisles pulling out bottles from the racks for me to inspect while effusing passionately about her choices. She never tries to push the most expensive wines, just those she thinks I will like. Sometimes I'll take one to try, and if it particularly appeals, I'll go for a case.
From previous expeditions she knew of my love of fine Sancerrre and noticed I always frowned at the high prices, even though they are still far lower than you would pay in the UK. On my last trip I asked her what's new and she introduced me to some Roche Mazet Cabernet Sauvignon and some amazing Chateau Reillanne Provence rose. She suggested I try the Coteaux du Giennois, from the same wine maker and the same Sauvignon Blanc grapes as Sancerre but just outside the AOC to carry the name. Christine has never been wrong in her recommendations and, at almost half the price of a Sancerre, I took a case.
After chilling the wine at home I popped the cork to accompany some Spanish style garlic prawns. A gentle swirl and sniff released notes of Green Apple, lime and nettle and a sip revealed the distinctive dry flintiness of the very best Sancerrre. Clean and crisp and perfect with fish, seafood and crustaceans this wine is highly recommended and great value for money.
Available from @Auchan_ France
http://www.vignoblesberthier.fr/english/html/coteaux-du-giennois.htm
@domaineberthier