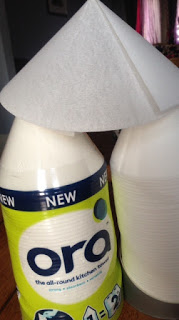 You may think I've fallen down and hit my head; after all, who would devote a blog post to a kitchen towel?
Well, like all the best ideas, simplicity is often at the heart of them. These award winning round towels are stacked on top of each other and so if you're in a hurry and need to mop up a mess, you only need one hand to pick up a super absorbent towel, rather than using both hands to unravel and tear off the thin, blue paper that most food businesses use.
Exclusive to Tesco's, Ora towels are already selling thousands of unit per week UK wide.
As a co-owner of a cafe where you often encounter spillages (children's drinks not being the least) and accidents in the kitchen, I can assure you it's a huge time saver that we really appreciate. It's also a big bonus to be able to place a towel on top of food before it goes into the microwave to prevent spitting.
In addition, each stack has the equivalent number of sheets as two ordinary kitchen rolls as there is no inner tube.
Copy and paste the link below to access Ora's website – you're one step away from making your food business a lot more efficient.
http://www.ora-home.com/
twitter @ora_home
facebook orahome
instagram.com/ora_home