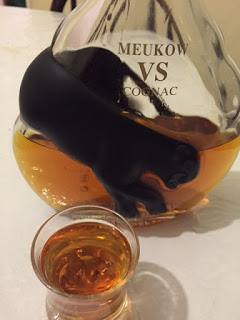 I adore Cognac, but my first experience of fortified Gallic beverages was the apple based Calvados. At the tender age of 17, while travelling up to Holland with my father and sister we stopped to eat in a Les Routieres restaurant in the magnificent medieval city of Rouen. I love these places; working class cafes with communal tables, cheap and generous portions of rustic French home cooking and great house wine by the carafe. I sat between a motorcycle cop and an ebullient lorry driver from Marseille. We tore bread and chatted with my basic French, whilst enjoying a most fulfilling beef casserole. The lorry driver insisted I accompany him to the front bar for a digestif of the finest Normandy Calvados. Not wanting to let he side down, and needing to prove the Irish can drink, I matched him shot for shot. Bad idea. I can barely remember getting back to the hotel but I do remember cutting my boot laces with a razor and I was incapable of undoing them any other way. Sleep was broken; drifting in and out of consciousness interrupted by a howling woman making love through the thin walls of our cheap hotel. In the morning I woke with a post Bacchanalian head.
Since then my palate has matured and I have discovered the decadent earthy delights of fine Cognac. I was recommended Meukow VS Cognac buy the wine buyer at Auchan, Boulogne. An enticing panther clad bottle containing an a seductive elixir inside; perfect as an after dinner digestif, deep Amber in colour with hints of caramel and vanilla, medium bodied, smooth and warming. An absolute delight.
The creating of Meukow dates back to the end of the 19th century. Two brothers Auguste-Christophe and Gustave Meukow came from Silesia in the 1850's to France. They were sent by Tsar Alexander ll with the assignment of supplying the Russian Royal Court with Cognac brandies. After several trips they decided to establish a trade office in the city of Cognac and created the House of A.C. Meukow & Co on August 1st, 1862. In 1979 Meukow was acquired by the "Compagnie De Guyenne group" (CDG) founded by Michel Coste and managed today by Philippe Coste, his son. CDG's business includes Armagnac, Brandy, Scotch Whisky, Vodka, Gin, and Pineau.
Best sipped neat or, if you really have to, over ice. This libation will leave you a glowing radiance inside like the heat of a furnace, ideal for those coming autumnal and winter nights.
@MeukowCognac
Available from:
The Whiskey Exchange £39.45
And considerably cheaper from Auchan, France