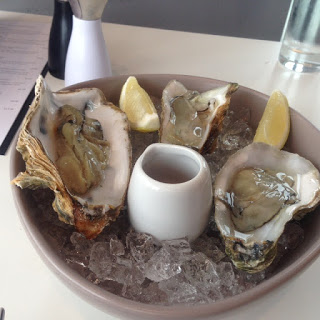 Spankingly fresh oysters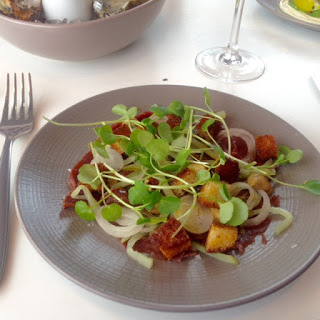 An interfered with plate of superb beef carpaccio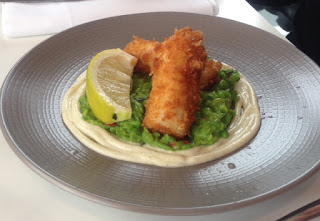 Delicious haddock goujons with crushed peas
Swanky comes to mind when you enter the second floor eatery of the Manchester Harvey Nichols store. Pots of money, groups of chic and self aware people abound in this buzzing and bustling brasserie in one of my favourite cities in the UK.
The first thing that hits you as you're perusing a very appealing menu that suits both those in need of just a nibble and those who want something more substantial are the exceptionally pretty plates coming out at record speed from the kitchen. To use the word 'inviting' just wouldn't do them justice – from a humble burger to the exquisite looking afternoon tea offering, it's clear that attention to detail is a priority here.
A hankering for oysters (£2.50 each) and beef carpaccio (£9) made ordering easy for me, despite some very tempting small plates (notably the tandoori monkfish and aloo gobi (£10) and the lamb cutlet with spiced aubergine and labneh (£8), whilst my companion chose the haddock goujons (£6).
A somewhat pricey glass of Sancerre (£10) arrived shortly and was everything a good Loire valley wine should be; citrusy and dry with a lingering finish. When the oysters arrived, the smell of the seashore almost wafted over me; they sat proudly in their shells, gleaming, plump and firm, begging to be downed with their natural juices. I had omitted to ask for some shallot and raspberry vinegar and these were bought instantly and served with grace. Suffice to say I could have given Gargantua a run for his money if I had allowed myself to gorge on a a bottomless offering of these jewels of the sea – they were just superb.
The carpaccio, on the other hand, had its faults. The cep mustard was incredibly overpowering and it just didn't need the brioche croutons. The quality of the beef was outstanding, however; it melted in my mouth and all it needed was the accompaniment of the classic Dijon mustard emulsion. It's a personal thing – it's often served with rocket, Parmesan, olive oil and lemon but I don't think you should distract from the beef.
The goujons were rather good, sitting handsomely in the middle of a plate on top of the nicely seasoned, crushed peas and surrounded by a thin layer of tartar sauce.
The service was professional and efficient, the bill for three very small plates and a glass of wine was an understandable £35 with service included. I'd go back just for the oysters they were so damned good. A dozen of those beauties and the monkfish beckon for another time.
Harvey Nichols Brasserie
21 New Cathedral Street
Manchester
M1 1AD
0161 828 8898
http://www.harveynichols.com/restaurant/manchester-dining/brasserie/