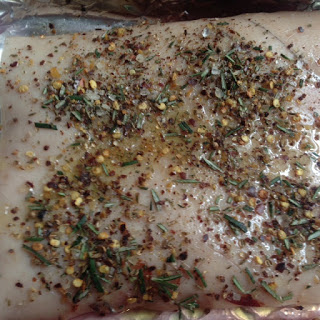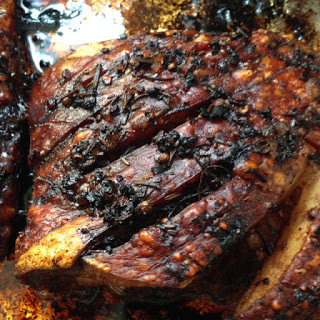 Ahh, that most fashionable of cuts. Not as cheap as it used to be as a result of its rise in popularity but it is a deeply flavoursome piece of meat and one that needs loving care.
TIP I serve these with potato and savoy cabbage cakes, the recipe of which will be up on the blog soon. The sharpness of a fine Reisling would work well with the fattiness of this joint.
I was very pleased with the quality of the pork which I bought from Sainsburys.
Serves 4
1.2kilos of pork belly
3/4 bottle of white wine
100ml of olive oil
few sprigs of rosemary, finely chopped
1 tbs of black pepper corns
1 tsp Maldon sea salt
1 large Spanish onion, quartered
1 bulb of garlic, unpeeled
1/2 litre of chicken stock
Pre-heat the oven to 245oC
Place the quartered onion onto a roasting tin along with the garlic bulb. Smash the sea salt and pepper corns along with the rosemary in a pestle and mortar. Score the meat with an extremely sharp knife and then pour over the olive oil. Rub in the salt mix, making sure the salt goes into the scored fat.
Pour a glass of wine over the pork and place in the oven for 20 minutes until it's starting to brown.
Turn the oven down to 175oC and roast for an hour and forty minutes. Pour in half of the remaining wine and cook for a further hour. Remove from the oven and let it rest for twenty minutes.
Meanwhile, scrape the onion into a saucepan and pop in as much of the roasted garlic as your tastes dictate. Mash and then whack up the heat and pour in the remaining wine. Reduce by half and then pour in the stock. Let this bubble away for fifteen minutes. Taste, reduce a little further if you wish to achieve a thicker gravy. Remove the crackling and cut it up into bite size pieces. Slice the meat and serve with the gravy in a separate bowl. You can also add some home made apple sauce for some added acidity.