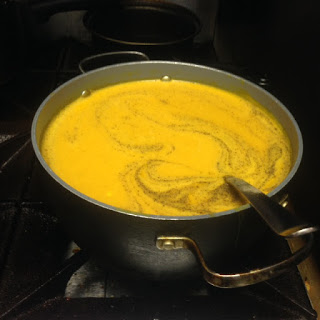 This is another winter warmer which I blend in the Nutribullet. Butternut squash is quite sweet so I like to add a good kick of paprika as well as the fragrant rosemary.
Serves 8
1 large butternut squash, peeled, deseeded and cut into chunks
2 litres of veg or chicken stock
1 large spoon of mashed potato (optional)
1 onion, diced
3 sticks of celery, diced
4 cloves of garlic, sliced
4 sprigs of rosemary, finely chopped
2tbs double cream
4 tbs of Greek yogurt
2 tbs paprika
4 tbs olive oil
black pepper
pre-heat the oven to 200oC
Place the squash chunks into a roasting tin. Drizzle with half the olive oil, 1 tbs of the paprika, cover with foil and roast in the oven till soft, about 40 minutes.
Meanwhile, heat the rest of the oil in a soup pan and fry the celery and onion on a low heat for ten minutes. Add the sliced garlic and cook for a further five minutes. Pour in the stock. Let that simmer for twenty minutes, then sprinkle in the rosemary, stir in the potato and turn off the heat.
Place the squash into the pan, reheat and when bubbling, spoon in the yogurt, cream and remaining paprika. Blend in batches in the nutribullet, serve in bowls and finish with a good grinding of black pepper.