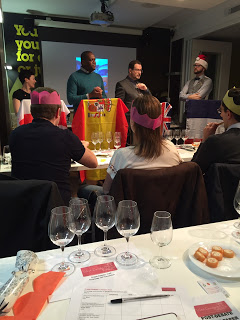 My love affair with wine began at a young age, growing up in rural Hampshire my resourceful mother would make wine from anything that was fermentable; raspberry, rose hips, honeysuckle, elderberry, dandelion and more, with varying degrees of success. However, it was only recently I formalised that love by taking and passing my WSET level 1 and 2 wine exams.
It takes a lot to tempt me out mid-winter in a howling gale and belting rain but an invitation back to The West London Wine School to sample an array of sparkling wines from around the world was just too good to miss.
Four of their finest wine tutors each presented two wines and passionately extolled their virtues with a most sincere passion. The bubbly Cherie Agnew on English sparkling wines, the effervescent Shane Jones on Spanish Cava, the dry, laconic Quentin Sadler on new world and Jimmy "The Professor" Smith on French Champagne and Chenin Blanc. The fifteen attendees were invited to first vote on their preconceptions and then vote again after the tasting. France won the first vote by an overwhelming majority.
The company of the passionate, wine loving crowd was superb, the presentations theatrical and the atmosphere convivial and great fun. Not only did we get to taste great wines, it was educational too and, as Quentin suggested, I should taste as many wines as possible in preparation for my level three course in March.
A robust, passionate debate ensued with fun quips, one liners, amusing anecdotes and much merriment all round.
The star of the night for me was Domaine Huet Vouvray Petillant 2010 a 100% Chenin Blanc from the Loire Valley, £19.50 from the Wine Society. Having spent fours years on the lies this wine had a lovely yeasty, biscuit nose with a sharp refreshing, lemony minerality you would expect from a Loire wine. Complex, fruity and full with a long fruity finish and far better than any Champagne I had ever tasted.
My second favourite was the multi-award winning Plumpton Estate 'The Dean' Blush Brut NV from East Sussex made from 94% Pinot noir and 6% Chardonnay, £21 from Waitrose. An appealing salmon pink wine with a nose of strawberry cream and orange peel, dry, biscuity yet juicy on the palate with a long, almost savoury finish. A real star.
The two Cavas certainly opened my eyes to the availability of high quality Cava, having only previously tried the cheaper supermarket staples and been left mostly unimpressed. The Titania Pansa Blanca Brut Cava DO, Spain 2011, £16.99 from Red Squirrell wine was a revelation. A deep golden princess of a wine with a smokey, earthy, yet fruity nose and a creamy, dry, honeyed fullness with hints of apple and apricots along with a delicious long, full finish. Stunning. The Jaume Codorniu Gran Reserva Brut Cava DO, Spain 2008, from Chardonnay, Pinot noir and Xerelo was somewhat paler, £34 from Amazon. More floral with hints of pear and pineapple and a gently delicacy and toasty richness.
The line up was completed by high quality wines from South Africa, Tasmania and a classic champagne.
The final votes were cast and revealed an overwhelming victory for France. The largest swing went to the English wine, no surprise then that Tattinger recently announced they are planning to plant vines in Kent.
What a superb evening; lively, informative, convivial, educational, I'd recommend any level of wine lover to go along, learn and have a great night out.
The school offers a number of wine tasting evening throughout the year as well as professional courses. Full details on their website.
West London Wine School
West London Wine School Office
Flat 2, 29 Woodbourne Avenue
London
SW16 1UP
Please note: This is NOT the venue for the wine tastings, they are held near Imperial Wharf, details on the website.