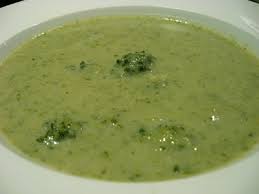 My business partner makes a wicked soup and when she decided to use Gorgonzola instead of Stilton it turned out to be a stroke of genius. Creamy, comforting and deliciously smooth, it went down a storm in the cafe.
TIP You can use frozen broccoli which makes this soup a doddle to cook.
Makes 8 large bowls
1kg of frozen broccoli florets
500gr potato, cut into small chunks
200gr Gorgonzola, cut into bite size pieces.
40gr grated Parmesan
2 litres of vegetable stock
1 large onion, diced
4 carrots, diced
2 sticks of celery, diced
4 tbs of double cream
1 tbs olive oil
black pepper
Heat the oil in a soup pan. On a gentle heat, fry the onion, carrot, potato and celery for ten minutes, stirring from time to time. Pour in the stock, tip in the broccoli and potatoes and simmer for another fifteen minutes. Add the cream, both cheeses and whizz with a soup stick, leaving a few chunks if you prefer some texture. Finish with a good grinding of black pepper. Job done.