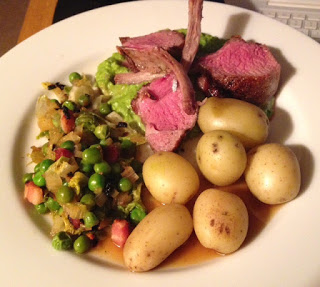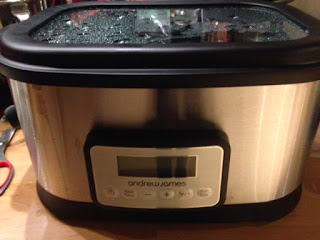 Being a sous vide virgin, I was terribly excited at a:- NOT cooking and knowing that my good friend Ian would produce something stunning and b:- knowing that a rack of lamb was on its way.
What can I say? The best lamb I've ever had. Here's how to do it.
1) Buy a sous vide. I've just seen an offer for the machine, the vacuum sealer, the vacuum sealer rolls from sousvidetools.com @ £215.99
2) Make up a bag (according to instructions) and throw in a couple of sprigs of rosemary, a couple of shavings of lemon rind, two whole cloves of garlic. Season the rack with Maldon sea salt and coarse black pepper (usually sold as 7 cutlets) and place on top of the flavourings. Seal the bag, place in the sous vide, cook for an hour and a half at 53oC.
3) Keeping the rack whole, fry it for a minute on each side till nicely coloured.
You can see from the photo just how beautifully pink and soft it turned out to be. Oh joy, oh joy.
Click on the link below for the offer.
https://www.sousvidetools.com/sousvidetools-small-water-oven-promotion?gclid=CN_36ZHip8sCFUrlwgodgGsGXw