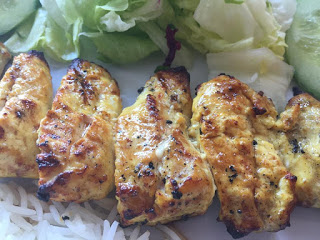 A great kebab should have three things going for it; good quality chicken, a terrific marinade and cooking till the meat is just done so it's juicy and tender. Add some interesting salad ingredients, flatbreads, a couple of mates and a bottle of Gruner Veltiner (a lovely drop from the taste the difference range at Sainsburys).
Serves 4
6 large free range chicken thighs, skinned and boned
1 heaped tbs sumac
2 fat cloves of garlic, crushed
2 tbs of Greek yogurt
juice and zest of 1 unwaxed lemon
good glug of olive oil
1/2 flat tsp chili flakes
good pinch of Maldon sea salt
Soak some wooden skewers in water for an hour. Meanwhile, cut the thighs into bite size chunks and make a few incisions into the chicken with a sharp knife. Place all the marinade ingredients into a bowl and using your hands, coat the chicken thoroughly.
Turn the grill on to its highest setting. Thread the chicken pieces onto four skewers, lay them across a shallow roasting dish and grill for about six minutes on each side (until the juices run clear).