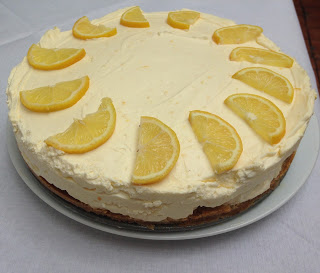 One of our regular customers briefly dated a chef and lucky for the cafe, he passed the recipe onto us.
Five ingredients, wickedly delicious, it flies off the shelf at The Lounge Cafe. I should cocoa.
Serves 8
1 pack of ginger nut biscuits (250gr)
900ml double cream
125 gr butter
1 can of condensed milk (397gr)
5 lemons
Melt the butter in a microwave or saucepan. Crush the biscuits in a processor, ( or place the biscuits, a few at a time into a food bag and crush with a rolling pin), pour in the butter, mix together, line a 23cm cake tin with cling film and spread the crumb mix evenly on the base.
Place in the freezer for half an hour. In the meantime, zest and juice the lemons into a bowl, add the condensed milk and whisk for four minutes. Pour the cream into a separate bowl and whisk till you have stiff peaks. Fold in the lemon mixture. Spread over the base and refrigerate for an hour. Decorate with half moon lemon slices. Heavenly indulgent.