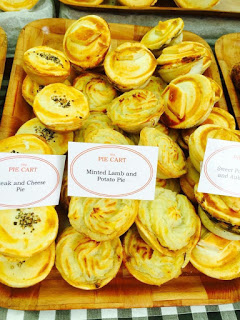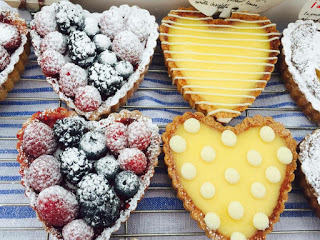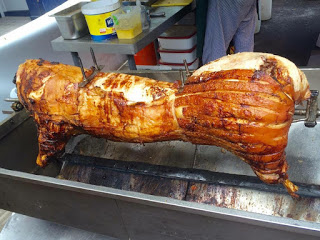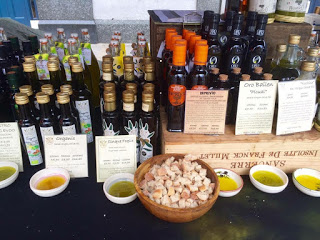 London E8 4QJ Open Saturday: 9am – 5pm



As I had to venture
to the east end of London from my home in NW10 for an afternoon event at the
Copperbox, I decided to make a day trip of it and revisit Broadway Market in
the morning. I l had been there three years ago when my sister came over from Australia and on recommendation of a good friend.
Broadway Market is a wonderful
street market in Hackney, East London. It stretches from London Fields at one end and meets
Regent's Canal at the other.
It offers an eclectic mix of fashion stalls, jewellery, designer home wares and so much
more but it is the food which I was there for. Their catchphrase is quality, speciality, variety.There are so many stalls to choose from, making it a gourmet foodies
delight. They offer delicious fresh produce and authentic street food.
With so many choices it was difficult to decide what to
have for breakfast. I opted for the smell of fresh bacon which drew me to Le Swine,
where I had a wonderful bacon butty with a spankingly fresh duck egg.
I chose a
lemon and poppy seed cake to take home from Berliner artisan foods although I could
easily have bought their entire stock.
Their chocolate raspberry slice and cherry
ricotta cake looked superb.
At Popina,I bought two Bombay potato rolls in filo pastry
to take home for dinner. The colourful vegetable tarts were also appealing.
The Romeo Jones cheese stand caught my attention, I can
never resist a little sampling. I tasted and then bought the famous Lancashire
Bomb made by Shorrock's Cheese. This fantastic, soft cheddar like cheese is preserved in black wax. Maria the editor of the blog used to sell it with a homemade chutney.
Coco &
Me- beautiful heart shaped lemon and chocolate tarts with fine attention to
detail
Ca Phe VN – serves original Vietnamese coffee. The strong aroma smelt wonderful
Violet- sells a whole array of pretty mini cupcakes
Hartland
Pies- authentic Melton Mowbray pork pies
Fin and Flounder- sells king prawns in Japanese panko breadcrumbs, lobster rolls
and lemon sole goujons.
Pie Cart- sells minted lamb and potato pie, steak and cheese pie
Nonnas- local
homemade gelato, something to remember when the weather gets warmer.
Broadway Market
London E8 4QJ
Open Sat 9.00am – 5.00pm
London FIelds Station