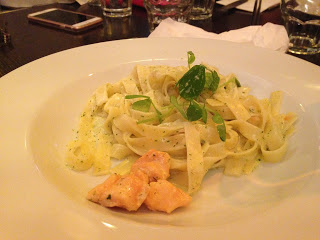 This is a question to which I have no unequivocal answer. People tell me that if something is truly wrong with their food they will voice it quietly, but at times they let it go because it's not that bad or they're having too good a time with the company.
Are we still so steeped in our non-confrontational culture or are expectations so low because the vast majority of people are just not that discerning?
Let me begin with an experience I had last Saturday night with a group of women who decided on a fun day and night out in London. There were twenty of us so we had to find a suitable, bubbly, large place to house us all. Now whilst I understand Heston wasn't about to show his face, I was expecting a decent enough plate of food with the prosecco which was on offer on the 'party menu.' The price also included a starter or a pudding.
I'll skip straight to the above, a small portion of tagliatelle with ONE forkful of salmon, draped unattractively, looking terribly lonely on the plate. I'm sorry but this is just an utter nonsense isn't it?
I don't care whether the vast majority of young women with 'L' plates and over exuberant behaviour couldn't care less, but surely there are standards to be met, even when alcohol is the main aim on the premises.
I couldn't really have cared either way for the starters, most of them looked as though they had been shipped in, but I can't confirm or deny this. There was a particularly nasty chicken aloo encased in some breadcrumbs that you needed a chisel to get into, but my dining companions seemed to think the other starters were passable.
Most of us had the steaks frites to follow, again passable but rather dull. The prosecco, on the other hand, which wasn't cold, by the way, was one of the nastiest things that I have attempted to consume in a long, long time.
What can I say? The now so familiar depression sets in yet again when I think of the cynical way in which people can earn pots of money by providing sub standard food and quite awful 'complimentary' booze.
On the plus front the service was good and pretty prompt. Other than that, I think I'll put this one down to experience.
Grace's Wine Bar
42-44 Great Windmill St,
London,
W1D 7NB
T: 020 7851 0800