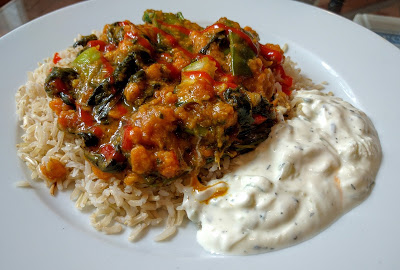 Recipes evolve when you're in the world of food. Sometimes it's by happy accident and other times it's because you have a sudden inspiration. By baking the courgettes and sweet potato the flavours are intensified and lift the whole dish.
This has to be the cheapest meal to prepare but by golly there's nothing cheap about the taste.
TIP Serve with cucumber and mint raita (see recipe)
Serves 6-8
1 large cauliflower, cut into florets
2 large courgettes, sliced
1 large bag of washed spinach
1 large sweet potato, peeled and diced
1 large onion, diced
4 fat cloves of garlic, crushed
1 thumb sized piece of ginger, grated
2 medium red chillies, finely chopped
4 tbs of olive oil
2 tbs balsamic vinegar
a little Maldon
sea salt
1 heaped tbs coriander
1 flat tbs cumin
1 flat tsp turmeric
1/2 flat tsp of clove powder
1 stick of cinnamon
2 cans of coconut milk
1 cup of vegetable stock
1/2 bunch of fresh coriander leaves
juice of 1 lemon
Pre-heat the oven to 180oC
Place the courgettes and sweet potato into a large roasting tin. Brush the veg with half the olive oil, sprinkle over the vinegar and dust with sea salt. Cover loosely with foil and bake for 35 minutes.
Meanwhile, heat the rest of the oil in a large saucepan. Fry the onion, chili and ginger for 3 minutes on a low heat, stirring all the time.
Add a little water if the mixture starts to stick. Add the garlic and fry for a further thirty seconds before placing all the powders into the pot. Stir well and add a few drops of vegetable stock. Continue stirring for a minute and then pour in the coconut milk and the stock. Add the cauliflower and cook for approximately ten minutes, or until the cauliflower is al dente. Whilst it's cooking, empty the bag of spinach into a large bowl and microwave for two minutes. Place it in a sieve and squeeze all the water out. Chop roughly and add to the pot. Turn off the pot until the potato and courgettes are cooked. On a low heat, stir in the vegetables, cook for a further three minutes and finish by stirring in the fresh coriander and lemon juice. Serve with basmati rice and a fiercely hot lime pickle and some peshwari naan bread.