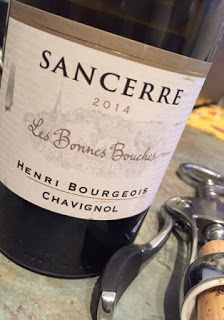 Buying wines you don't know is always a hit and miss affair, especially in supermarkets and trade wholesalers. When you spot something that piques your interest it's always worth buying one and, if it's a keeper, go back and buy a case. My wine tutor, Quentin Sadler, always advises random selection, and, apart from attending tastings and masterclasses it's the way to discover new wines.
After giving this a good chill, I popped it open and poured this jewel of the Loire Valley, gave it a swirl, closed my eyes, pushed my nose deep into the glass and took a long, deep breath. At once I detect notes of pungent lemon and lime along with the aromatic intensity of apricot and ripe peach; I knew I was in for a treat.
The powerful fruit is perfectly balanced by the classic dry flintiness of the Sancerre terroir; it permeates the mouth as you squeeze this delicious nectar through your teeth and over your taste buds.
I paired this with pan fried floured sea bass fillets and finished the rest with some slow roasted pork belly the next day. The lovely lemony acidity cut through the fattiness of the pork and is always sublime with any seafood, but like most Sancerre, really excels with when paired with oysters.
An absolute snip at around £8.00, when on offer, but even at the regular price of around £12 this is still a superb value Sancerre.
I picked this up from the branch nearest to me; check the website for you local branch. Store membership is required.
Costco Hayes
Western International Park
Hayes Road
Hayes
UB2 5XJ
@CostcoUK
For the wine producer:
@janybourgeois