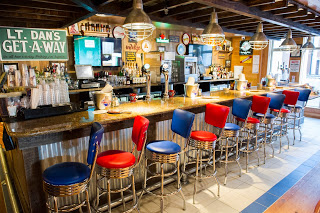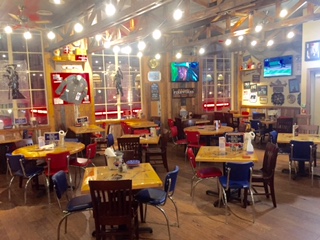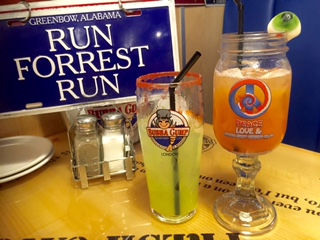 Some people think I live on a daily diet of truffles, lobster, foie gras and fine wine but I'm not adverse to simple fast food. I can be quite partial to pizza, fried chicken and fish and chips on a Friday night so, as a relief from my imagined diet of exotic food, I went to Bubba Gump in London's Soho to experience their Alabama influenced prawn rich seafood menu.
It's based on the film Forrest Gump, where the concept of a restaurant is suggested by his army buddy, former shrimp fisherman Bubba, who reels off a list of almost 20 shrimp dishes he plans to cook when he gets back from Vietnam. In the film Forrest vows to a mortally wounded Bubba to realise his dream and sets out to become the best shrimp catcher. The concept of a theme restaurant was developed by Viacom and subsequently sold off to Tilman J. Feritta's Landry's group and has now been developed into an international chain.
The bright, colourful spacious interior is bedecked with film memorabilia and is a mix of open plan tables, booths and a private dining area.
Beer arrived ice cold, for me a more ideal match to fried seafood than wine and although not sampled, Bubba does provide a keenly priced wine list for cental London.
First up was a massive salad served on a long oval plate comprising shrimp and blue cheese with pears, strawberries, raspberries and glazed pecans, £11.95. A pleasant and refreshing balance between sweet and seafood.
Shrimper's Heaven was next to appear. Four cones of potato fries topped with shrimp including hand breaded coconut shrimp, chilled peel 'n' eat shrimp, fried shrimp and Japanese style tempura shrimps, £19.50. I couldn't really find fault here, generous portions, well cooked and presented; the coconut shrimps were particularly delicious.
The scampi linguine again was generous, though I found it a little flat and lacking in flavour; it could have been lifted with some roasted cherry tomatoes and a little chili, £15.50.
The best dish of the night was the coconut rice with prawns stuffed with crab meat. I'm a big fan of crab anyway and the addition of coconut set this dish off nicely.
Desserts were indulgent, generous and very, very sweet all made to American taste. A calorific inferno resulting in a sugar rush that would last a month – not really to my taste but the Alabama Brownie was impressive.
Bubba Gump is definite good value and for a fun evening for large groups; for families with kids it's the perfect West End venue. A little too much fried food perhaps, I would have liked to taste some of the more exotic Cajun dishes on the menu such as Jambalaya and Gumbo.
Service, like any American owned restaurant was absolutely first class. It's run like a slick machine, happy hours , kids menus, loyalty schemes and even a gift shop on the way out to to buy t-shirts, glassware, hats, DVDs, cook books, license plates and of course, boxes of chocolates!
I waddled home feeling rather full. The gut busting portions are generous almost to excess, just what you'd expect from an American restaurant. One thing is for sure, you certainly won't be leaving here hungry.
Bubba Gump Shrimp Co.
Unit 75 Trocadero
13 Coventry Street
London
W1D 7AB
ph. 0203 763 5288
bubbagumpshrimp.co.uk
@bubbagumpuk1
www.facebook.com/BubbaGumpLondon