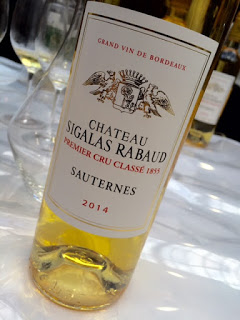 There was once a time I thought of sweet wines being syrupy gloop, like golden syrup laced with cheap alcohol. I had blocked sweet wines from my mind; they were something I would always avoid, preferring to round off a meal with a vintage port.
This perception stayed with me until I began formally studying wine when I tasted some sublime sweet Bordeaux and German Riesling at the West London Wine School.
At the top end the Sauternes that achieve Grand Cru status are really sublime. These two are my current favourites:
Chateau La Tour Blanche, 2014 is an absolutely stunning Sauternes. It has the classic balance between acidity and sweetness that makes these wines so special. Dense and rich on the palate with a touch of spice and orange blossom and a luxuriant long finish, this wine is really something special. The handpicked cepage of 83% Semillion and 12% Sauvignon and a hint of Muscadelle just oozes class from every sip. Each vintage is aged in French oak barrels, which are renewed every harvest, for 16 to 18 months.

This is available from Berry Brothers and Rudd from £30 and up per bottle.
Chateau Sigalas Rabaul, 2014. Once again this has all the elements of a classic Sauternes but with a little less sweetness. The nose has lychee and light citrus while on the palate the notes of honey, honeysuckle and ripe white peach are balanced with hints of lime and a more pronounced dryness giving it unique fineness and elegance. This if followed by a longs smooth, buoyant almost gingery finish. This small production of only 25,000 is grown on a gravel and clay soil and spends 20 months in barrels with a cepage of 85% semillion and 15% Sauvignon. This wine can be enjoyed from 5-25 years but is perfectly drinkable right now.
Available in the U.K. From The Wine Society prices range from between £30-40 depending on vintage per bottle.
I also highly rated the Chateau Bastor-Lamontagne a harmonious, vivacious modern Sauternes.
My wine tasting didn't stop at Sauternes; I've also grown to adore the glorious, luxuriant wines of Montbazilac and the slatey sweet auslese Riesling from the Mosel.