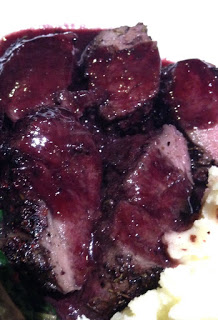 Sauce brings everything together on a plate. Gravy for the roast, a silky Hollandaise draped over poached eggs, the five French mother sauces showing off a vital skill if you want to be considered a decent cook.
This particular glossy, divine sauce was presented to me by my good friend Ian Jack, who had cooked a slab of venison in his sous vide. The result was spectacular. As the meat was cooked at a low temperature in a vacuum (in this case for an hour at 56c) the texture was so soft you could cut it with a spoon. Flash fried after cooking, this velvety sauce clung to the meat like lovers locked in a fierce embrace. Delectable.
TIP You can also pair it happily with duck.
Serves 4
100gr blackberries
100ml red wine
100ml chicken stock
1 tbs honey
black pepper
Pour the wine into a small saucepan and bring to the boil. Reduce by half and add the fruit and stock.
Simmer for twenty minutes. Pass through a sieve and finish with a good grinding of black pepper. Lush.