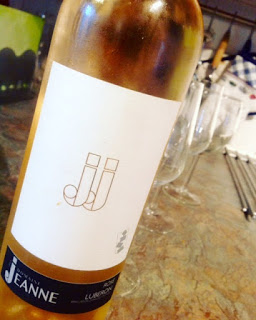 One only has to gaze deep into the vibrant paintings of Cezanne, Matisse and van Gough to feel the radiant intensity of the Provence summer that ripens the grapes in the Oppède vineyards on the mountains and valleys above Avignon.
Domaine des Jeanne was formed when Welshman Lord Mervyn Davies of Abersoch was introduced to winemaker Alexandre Samour, whilst sourcing the perfect rosé for his daughter's wedding in 2011.The first harvest was in 2012, releasing their first rosé in 2013, named 'Jeanne' after Mervyn's wife and Alex's daughter. Jeanne appropriately means 'divine gift', and represents the importance of family to both founders.
This small winery produces only four varieties including this traditional rosé signature blend. Lovingly produced from grenache, syrah and clarirette grape variety, this is a truly delightful drop.
Pale rose petal in colour and light and fresh on the nose with delicate wafts of strawberry and white stone fruit. On the palate it's immensely fruity without being sweet; elements of orange and citrus give it a superbly crisp and balanced acidity that gives is fully rounded refreshing finish.
This wine is great as a convivial summer aperitif enjoyed with friends or partnered with fish, seafood, spicy Asian foods or lamb. Close your eyes, take a mouthful, swirl around your mouth and you can almost see see the paintings and colours and feel the hot Provence sun on your cheeks.
At only £9.95 this is a snip; and a far better wine than some three times the price. Well worth seeking out.
@jj_wine
Available from: