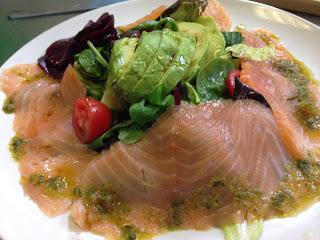 I love this punchy, highly perfumed sauce. I make it at the beginning of the week in the cafe and it lasts well in the fridge. The above salad of smoked salmon, avocado and beetroot begs for this emulsion to be drizzled over it.
TIP I have found the best value smoked salmon at Lidl's. Please use the best olive oil (try Sainsburys Toscano extra virgin ) and sweet cherry tomatoes. I always use Maldon Sea Salt.
Serves 8
200ml extra virgin olive oil
handful each of basil and flat leaf parsley
8 cherry tomatoes, deseeded and diced
1 banana shallot, diced
juice of half a lemon
1 tbs white wine vinegar
good pinch of sea salt
black pepper
Simply place all the ingredients into a nutribullet or a blender and blitz for thirty seconds. Voila. Pour into a screw top jar and refrigerate until needed.