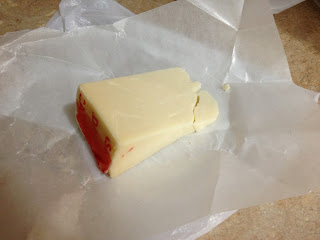 I've been experimenting with semi hard cheeses to see what variations of Welsh Rarebit I can make –  this particular, sharp cheese melts beautifully and makes a wonderful partner with sourdough – or posh cheese on toast to you and me. It's not an authentic Rarebit, but who gives a hoot when you end up with this bubbling, golden, melted mound of deliciousness.
Serves 2
100gr grated Provolone
2 tbs real ale
25gr unsalted butter
1 tsp English mustard powder
4 thin slices of sourdough, toasted
Mix together the cheese, mustard, ale and butter. Slap it on the bread and whack it under a hot grill till bubbling and golden. Bish bash bosh. Oh and don't forget the Beaujolais.