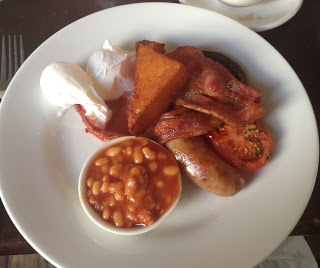 Having been supremely disappointed by the quite awful meal that I suffered through the day before on Brighton sea front at The Regency restaurant, my brunch experience turned out to be the polar opposite in the simply named 'Hove Kitchen'.
The elegance, lay out and ambiance in this charming eatery smacked of 'gastro', but with a significant difference – an air of caring for the clientele and a very apparent contentment in the staff, so often sadly lacking these days.
The brunch menu was reassuringly small and very well thought out. I nearly went for the bruschetta, ricotta, flat mushroom and poached egg but the pull to have a full English was too strong. My companion went straight for the eggs Benedict, a dish that would send your vascular surgeon running for the hills, but who gives a hoot when it's a 'to die for' dish.
You need four elements to make it work – poached organic eggs that gently ooze onto the plate when you cut them open, a superb ham (a Sussex hand cured slice of salty perfection in this case) the glossy  loveliness of the Hollondaise, draped handsomely over the eggs and finally, all supported by a light muffin of superior quality, often overlooked. Well, tick, tick, tick. Gorgeous. Couldn't fault it.
I am happy to report that The Full English stood up to its rival in all respects. Again, the eggs were cooked perfectly, the hash brown was simply the best I have ever tasted and the quality of the meats shone through. If I had a tiny gripe it would be with the rather sad piece of white toast that arrived with my breakfast. A tad disappointing.
I have to also mention the staff who waited on us – smiling, professional and efficient. Maybe it's because there's no service charge on the bill (which is a pet hate of mine – why the hell should I pay for service if it's crap?) and so they work for it, but I genuinely thought they were happy in their surroundings.
If you're walking along Brighton front, make your way to neighbouring Hove and spend an hour with the papers on their sofa and tuck into great fare. Job bloody well done.