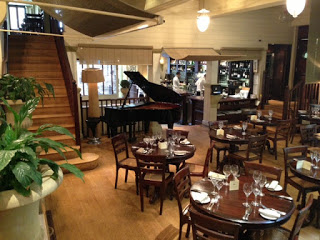 The phrase  that springs to mind when thinking about Havana, located in the lanes in Brighton, is sheer elegance. The place reeks of it. The decor, the bar area, the plush, modern sofas, the flowers, the piano and Blue Note wafting out of the speakers all conjoin to make a really wonderful setting in which to enjoy your meal.
It's a slick joint and I was very impressed with the service from the outset. Normally when you ask for a few extra moments to peruse the menu in a bustling restaurant, you get that barely disguised, irritated look of impatience on the waiter's face. Not so here. The atmosphere was relaxed, we were told to take our time and for me that was a very good start.
It was mid morning when we rocked up, so I wasn't in the mood for breakfast;  then I spotted the club sandwich – three slices of sourdough heaven packed to the rafters with chicken, bacon, salad and topped with melted cheddar, served with a side salad and a bowl of chips. That'll do nicely I thought and how right I was.
My friend had ordered the brie and bacon monster sandwich which was made with toasted walnut bread, I'll say it time and time again. If you use quality ingredients you are three quarters of the way there in the world of food.
Even the side salad had a mild yet lovely dressing. The devil's in the detail and Havana's got it in spades.
Great service, good food, lovely setting and for two of us with drinks we paid fourteen pounds each which included a generous tip. Very well worth a visit.