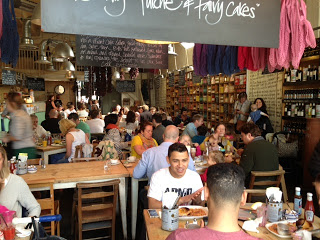 Everyone has heard of Bill's in Brighon it seems. As I entered this large and impressive establishment, I also thought that everyone in Brighton was in Bill's this morning.
Fortunately we only had to wait for about five minutes before being seated – if we'd arrived ten minutes later we would have been queueing for an age.
I was eager to try Bill's as many of my friends had been there and raved about it.
Commercially they have it all – the walls are awash with every kind of 'Bill's home made' fare .I tend to be a bit cynical about products that have a name attached to them. Think of Lloyd Grossman's vile bottled sauces – one shudders at the thought. The uber trendy packaging of course is always a temptress in itself, but I have to hold up my hand and say I can't judge one way or another as I didn't purchase anything on the day.
It was mid morning so the call for the full English was as strong as ever. Two poached eggs, streaky bacon, portabello mushroom, ripe tomato on a thick slab of white, toasted bread. A cup of builders and we were away.
It was everything that one would expect. Superior quality of ingredients, very well cooked. Actually, It was everything that one should expect from an expensive breakfast. It's really not rocket science is it?
Maybe all the hype had put high expectations in my head and when it came to it, I was just happy with what was put in front of me. It's like reading about a film that everyone is raving about – the answer? Don't bloody read them. Maybe I  should do the same about food reviews.