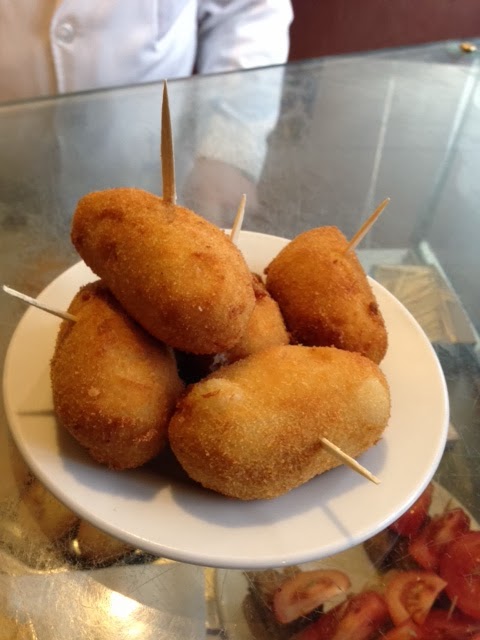 Spain, along with France and Italy, is firmly in the top three truly gastronomic cultures of the world. What I adore about Spain, and Madrid in particular, is the way that many restaurants and bars will focus and specialise in certain dishes or types of food and do them superbly. Casa Labra in Madrid is no exception.
Situated in a narrow alley, just off the Puerta del Sol this delightful Madrid institution has been serving hungry Madrileños since the 1860s. The beautifully preserved dark wood panelled interior takes you back two centuries; one can almost hear the ghostly chatter of generations of diners discussing the age old problems of life and love whilst enjoying the fine wine and food just as generations after them do today. For that, whenever I go to Madrid a visit here is always an essential part of the trip.
We got there around 2.30, just after the main lunchtime rush, sat on tall stools at the outside tables, and ordered the famed specialties of the house, the real reason Madrileños love this place;Croqueta de bacalao: Home-made cod croquettes (€.90). A bite through the crispy and perfectly fried exterior revealed the generous chunks of cod in a delicious and divine creamy sauce. We also ordered a plate of the Tajada de bacalao; small pieces of prime quality battered, crispy cod fried to their own recipe. (€1.40) and some Empanadillas de Ternera, a small pasty filled with chunks of tender veal and vegetables (€1.25) all washed down with a glass of Mahou beer (€2.45). A superb and filling lunch in a major European capital for under €10.00
If you are ever in Madrid, go there, you won't be disappointed, and, if you listen carefully you may just hear the chatter of ghosts too.
Casa Labra
Calle Tetuan,12,
28013 Madrid
Teléfono/Fax: (+34) 91-531-0081
@casalabra