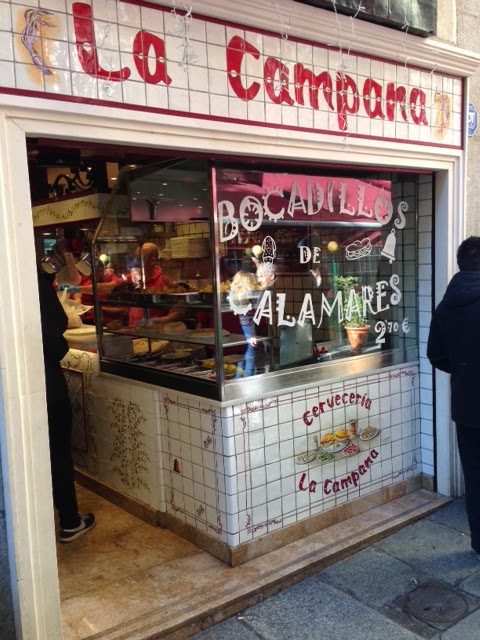 While I love to flaneur in fancy French restaurants sometimes there is nothing one craves more than some simple, filling street food. Feeling peckish whilst wandering around central Madrid on a sunny winter's day I noticed this charming place with a queue snaking down the street with the lovely aroma of frying squid almost physically pulling me in. My rule always is, if it's good enough for the locals, it's good enough for me. So I just had to give it a go.
Like many of the eateries in Madrid and Spain this specialist place serves one food but does it absolutely superbly. For just €2.70 you are presented with piping hot calamari in a large fresh crusty roll. The squid is deliciously tender, the batter dry and crunchy, just as it should be. Either eat in with an ice cold Mahou beer or have it wrapped to eat on the hoof. Simple and delicious and amazing to find such a cheap lunch bang in the centre of Madrid.
Although I do love street food, I must admit, it's not easy to flaneur elegantly with a big crusty roll in your hands.
La Campana
Calle de Botoneras, 6,
28012 Madrid
Spain
Phone: +34 913 64 29 84