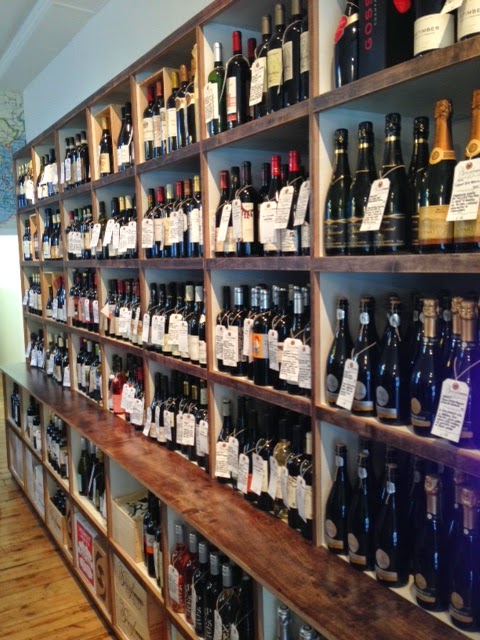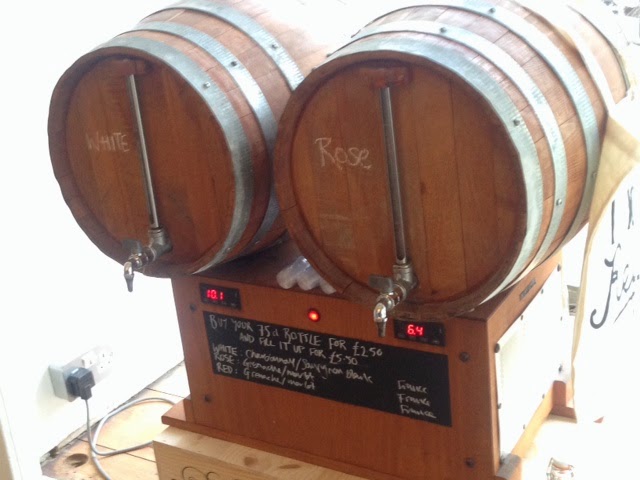 A few summers ago I was on a lightning tour of Italy with friends from Miami. The Cuban had hired a car in Milan and was determined to do Italy top to bottom in less than a week.  First stop was Venice,
La Serenissima; always beautiful and always a delight. Having been many times we decided to explore some of the less touristy neighbourhoods. Just over the Rialto Bridge going towards the railway station was a wine shop with racks of barrels behind the counter where you could bring your own bottles to fill with wine.
Sfusi ma Buoni Enoteca,
Cannaregio, 1780 Venezia, if you're heading that way! We hastily finished our two litre bottles of Evian and filled them with the most delightful red Veneto wine that would easily sell for £15+ here for no more than €2.
The new, fifth branch of Borough Wines in Kensal Rise is now bringing this practice to North West London.  For a mere £5.50, along with a one off £2.50 charge for the refillable bottle, you can top up with a red, rose or white from vats in the shop. I sampled all three; the red, a Grenache/Merlot, the white being a Chardonnay/Sauvignon Blanc but I opted for the Grenache/Merlot Rose. Both the Rose and white are kept in chilled vats so were ready for immediate drinking.
Borough wines has a fantastic range of wines, mostly, as manager and passionate wine buff Eliza Parkes informed me, sourced direct from smaller producers. They try to stock original wines not available in any other UK store to bring something fresh to the wine guzzling public and the wholesale market. Heavily leaning to French wines their main selections hail from Languedoc, as Eliza and I agreed, a much underrated French wine region. They also feature Gamay and Beaujolais along with wines from Italy, Spain, Argentina and Hungary, many organic and biodynamic wines as well as some more unusual ports and sherries. Each wine has a label tied around the neck with hand written tasting notes to help you make your choice. Prices range from around £7 up to around £50 for grand crus such as Pauillac for those with deeper pockets and more expensive tastes. They are also gearing for a home delivery service in the near future too.The on-tap French Rose was crisp and nicely dry. I also bought a bottle of the excellent Prosecco Terra Serena Treviso, £12 (
http://www.vinicolaserena.com
) An excellent dry spumante, delicate with hints of hazelnuts; very quaffable.
In addition to the wine, they stock a large range of bottled beers from London microbreweries including Kernel Porter, Milk Stout, Portobello Brewery, Five Points and more; they will shortly be adding a beer refill system too.
The shop is wide and spacious and the back of the shop, with its table and bar stools, allows ample space for wine tasting events planned for the future.
Borough Wines is a most welcome addition to North West London and I look forward to working my way through their shelves.
Borough Wines
30 Station Terrace
Kensal Rise
London
NW10 5RP
0208 969 9939
@boroughwines_kr
@boroughwines