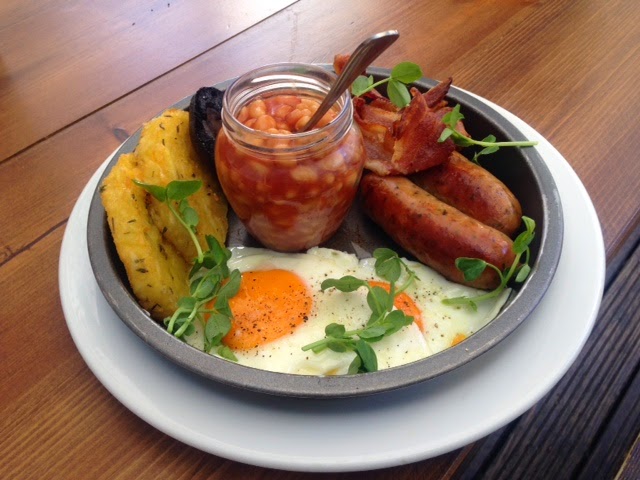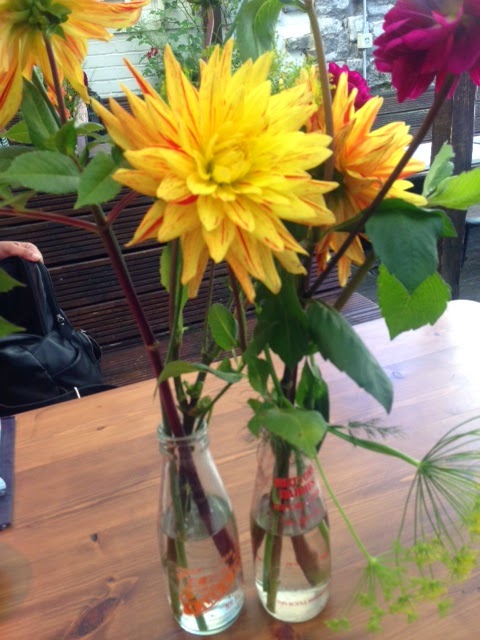 The first thing to smack you in the face as you enter the charming and spacious establishment that is The Parlour in Kensal Rise, NW London is the riot of colour. Exotic and wild flowers arrest your every turn and it's a wonderful touch to this most pleasing of pubs.
A sunny Sunday morning had brought myself and a pal here for brunch, having read a couple of very good reviews online.
We chose to eat outside where heaters were available should the need arise and comfortable surroundings and yet more flowers made for a very pretty setting.
A small and eclectic menu was handed to us by a very friendly waitress and both of us headed straight for the full English – a gluttonous breakfast consisting of hash browns, herby sausages, streaky bacon, mushroom, baked beans, tomato, hash browns and as much homemade bread and preserves that our bellies were able to consume. (£12.75)
When it arrived I thought it was just the most splendidly presented breakfast I had seen in a long time – I would venture to say it was extremely handsome, if breakfasts can be masculine that is.
Helping oneself to bread for toasting and a choice of  papers was rather a nice touch and plunging straight into this Gargantuan affair I have to say I was very impressed indeed. Clearly quality is uppermost in the minds of the management team and it shone through in every ingredient on the plate. If I had a minor gripe it would be the rather mean quarter of tomato and the hash browns were a little limp and had no crunch on the outside. This aside, everything else was a delight for our stomachs and the service was outstanding.
I had a quick peruse at the splendid looking dinner menu and was informed that it changes constantly depending on what's in season. It was enough to lure me back in a heartbeat. Please take note, however, they are now closed on a Monday.
The Parlour
5 Regent Street,
Kensal Green,
London,
NW10 5LG
020 8969 2184
https://www.facebook.com/pages/Parlour/389631334443