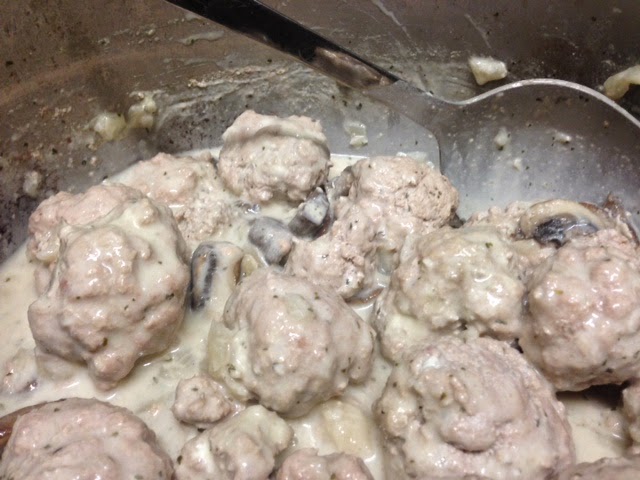 Small nuggets of pure comfort with a rich, creamy mushroom gravy sitting on a bed of mash – that's my kind of Polish comfort cooking.
They're also ready in a trice. One of the café customers told us he couldn't get this sort of home cooking anywhere. A high compliment indeed.
TIP Make the day before you serve them up.
Serves 4
600gr pork mince
2 rashers of bacon
1 box of chestnut mushrooms, sliced
2 shallots, finely chopped
4 cloves of garlic, sliced
2 tbs breadcrumbs
3/4 litre of chicken stock
4 tbs double cream
knob of butter
1 tbs olive oil
handful of parsley leaves, finely chopped
juice of half a lemon
black pepper
Place the garlic, bread crumbs and bacon Into a processor. Wizz till incorporated and then tip the mixture into a large bowl. With your hands, work the pork and bacon together. Roll your meat into small balls the size of a squash ball.
Heat the stock in a pan and gently poach the meatballs for ten minutes. Meanwhile, melt the butter in a pan, add the oil to prevent the butter from burning and cook the shallots till translucent.
Add the mushrooms and when golden brown, tip them into the stock. Once the meatballs are cooked, finish the dish by stirring in the cream, the lemon juice, parsley and a very good grinding of black pepper.