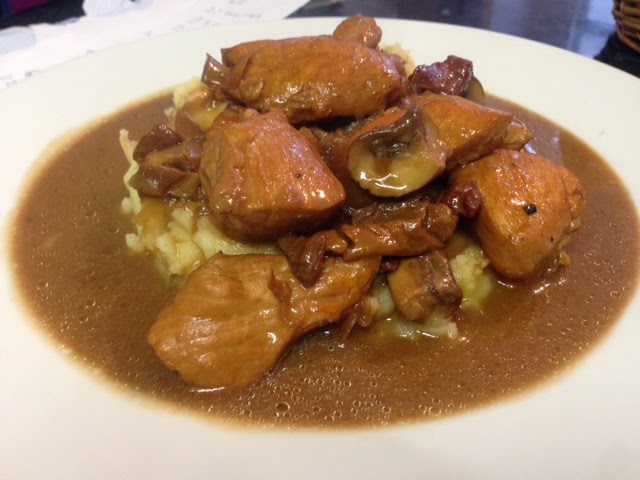 This terribly rich and simply fabulous recipe comes from my favourite cookbook, Diva. I cannot believe it's out of print – it's simply bursting with the most unusual recipes and this chicken dish makes for a fine dining experience. It's quick and easy and oozes sumptuous flavours. The original recipe uses chicken thighs but we have substituted with breast meat.
Serves 8
55gr dried porcini mushrooms
8 chicken breasts, cut into chunks
4 tbs plain flour
1 tsp each of salt and pepper
250gr pancetta
1 tbs olive oil
2 onions, finely chopped
6 garlic cloves, chopped
20 dried cherries, chopped
125ml balsamic vinegar
500ml red wine
250ml chicken stock
1 tsp cornflour dissolved in 2 tsp cold water
handful of flat leaf parsley
Pour 250ml of boiling water over the mushrooms. Leave for half an hour. Strain through a fine sieve and retain the liquid. Chop the mushrooms.
Dredge the chicken in seasoned flour. Fry the pancetta in a little oil until it is very crisp. Remove from the pan and set aside. Fry the chicken for three minutes on each side in batches, adding a little more olive oil as necessary. Remove from the pan, sauté the onion and garlic till soft.
Stir the mushrooms into the onion along with the cherries, vinegar, wine, stock and reserved liquid, Bring to the boil and simmer for ten minutes.
Add the chicken and pancetta, bring to a simmer and cook for thirty minutes. Add the cornflour mixture and simmer for five minutes. Serve with a lovely dollop of mash.