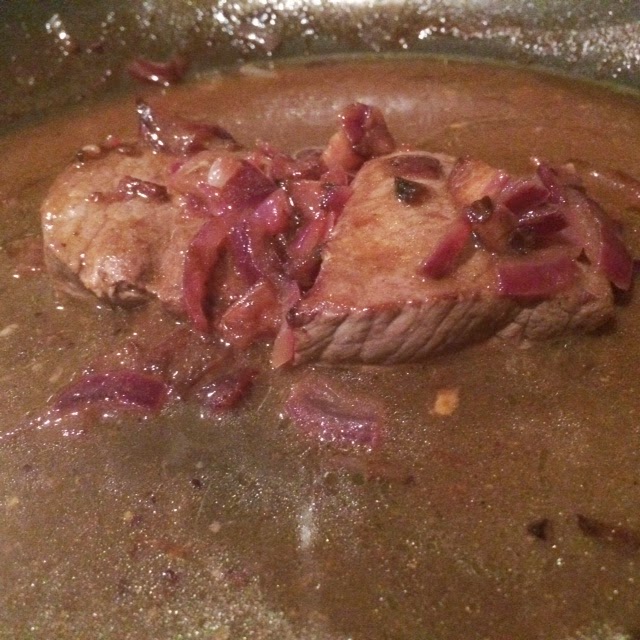 Being a devoted carnivore and a confirmed greedy git to boot, one of my favourite snacks in which to indulge is a steak and onion baguette with just a little rocket and a great big dollop of Maille Dijon mustard.
When feeling particularly gluttonous, I throw in a few chips as well. This isn't a sharing thing – make no mistake. You need a sofa, a couple of glasses of a bold red wine, a French movie and a bib. Enjoy.
1 sirloin steak (200gr) at room temperature
1/2 a French baguette
handful of rocket leaves
1 tbs Maille Dijon mustard
1/2 red onion, sliced finely
1 flat tsp brown sugar
4 tbs balsamic vinegar
1 knob of butter
Olive oil for frying
black pepper and sea salt
Heat a frying pan and pour in two tbs olive oil. Add the onions, turn the heat down and cook the onions for about ten minutes, stirring often. Pour in the vinegar, stir in the sugar and cook for a further twenty minutes on the lowest heat possible.
With eight minutes of cooking time left, heat another pan, add another couple of tbs of olive oil and a knob of butter. When foaming, fry the steak for 1 and a half minutes on each side. Season, remove and rest for five minutes before slicing thinly. Split open the baguette, pour over any pan juices, smear on the mustard, arrange the steak, top with onions and finish with the rocket leaves. Open gob very widely….